When it comes to Christmas Cookies, these days, you can find tonnes of different recipes online or in any family recipe book. But the ones that these are based on seems to be unknown when I try to find out what they're originally called. My Opa would make cookies that featured a white sugar cookie ring and a chocolate centre. My mom would make the same cookie, but one year the story goes, she put the chocolate on the outside and the sugar cookie in the centre. And I was a child wandered into the kitchen and promptly declared them Stable Cookies. When asked for the reason, I explained that the brown was the stable and the white was the light of Jesus shining out. And since then my mom has made them this way and this year for the first time, so did I.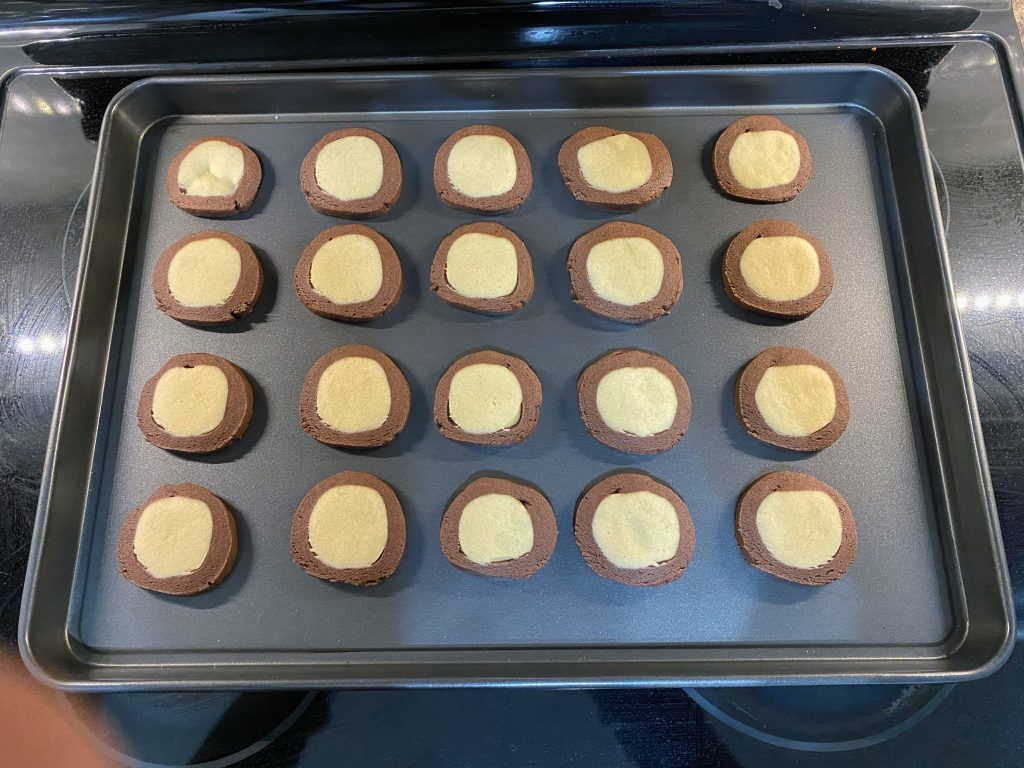 White Part:
2.5 cups of All-Purpose Flour
1 teaspoon of Baking Powder
1 Cup of Softened Butter
3/4 of a Cup of White Sugar
1 egg
1 teaspoon of Vanilla
Chocolate Part:
2 1/3 cups of All-Purpose Flour
1/3 cup of Unsweetened Cocoa Powder
1/2 teaspoon of Baking Powder
1/4 teaspoon of Salt
2/3 cup of Softened Butter
2 Eggs
1 cup of Sugar
1 teaspoon of Vanilla
Starting with the White Part, combine the flour and baking powder. Using a stand mixer, cream the butter, sugar, egg, and vanilla until light and fluffy. Then slowly add in the flour while continuing to mix. Once combined, divide into four parts, a kitchen scale works best for this, and roll into logs that have about a three-centimetre diameter. Wrap in plastic and place in the fridge.
Once completed, moving onto the Chocolate part, sift together the flour, cocoa, baking powder, and salt. Cream the butter together with the sugar and vanilla. Once light and fluffy add in the eggs one at a time, continue to mix until combined. Gradually add in the flour, cocoa, baking powder, and salt mixture, continue to mix until completely combined. Then divide out into four parts using your kitchen scale and flatten them out by hand into patties. Wrap in plastic and place in the fridge.
Allow both parts to chill for at least one hour, but I left mine to chill overnight. Once chilled, remove from the fridge. Roll out the chocolate section into rectangles that allow you to wrap them around the white centres easily. Do not use flour on your surfaces, rather used waxed paper to prevent the dough from sticking to the counter. Wrap the chocolate around the white section, trim off the edges and use any excess to fill in any gaps. Repeat this for the remaining three sections. Rewrap in plastic and allow them to chill in the fridge for another hour. During this time you can pre-heat your oven to 375F. Once the oven is heated, and the cookie logs chilled, slice each log into 1/2 centimetre thick cookies. Bake for 8-10 minutes, depending on your oven. This makes a lot of cookies, so make sure to share them!