About
About|

The Photographer

Art and creativity has always run strong in my family. My mother writes, my father creates stained glass, and my brother creates music. All through school I took the usual art classes, learning drawing, painting, and sculpture, all through elementary school and into high school. Sure I was okay at them, but there never was any passion, and drawing anything beyond spaceships, I was fairly hopeless. But it did give me a base to express my creativity in a physical sense, beyond my Lego creations. But my artistic expression lay outside of the traditional forms of art. I was introduced to photography, beyond the snapshot, in an English class. A roll of black and white film, and a Pentax K1000 from the school's photography lab was all it took. I was hooked, this was exactly what I had been looking for, so at a garage sale I found an old Minolta rangefinder and started shooting, playing with aperture, shutter speed, and of course teaching myself how everything worked. Film was my medium of choice, digital wasn't yet an option, as most consumer grade digital cameras were still just entering the market and the costs were still high, especially for a high school student going into college and working at McDonalds. I scored a good deal on a digital camera, and soon found my film work falling by the wayside, drawn into the ease of use and near instant options that it brings. But what I didn't expect was that it would be a detriment to my photography, losing my artistic flare, I became obsessed with the technical aspects of photography, noise, sharpness, and perfect exposure. It wasn't really a bad thing, in fact I feel it was again a good foundation building for my work, because when I returned to film I was a much stronger photography, and the film simply brought me back to the creative aspect of the medium. I was able to create stronger images knowing the technical details and the rules, and being able to bend and break them to get my image how I imaged it, the first time. And of course remembering to slow down, take my time, and most importantly, have fun.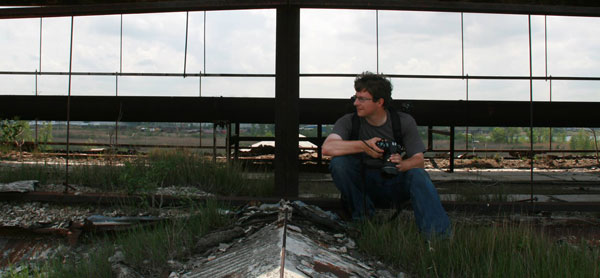 ---
Why|

Film?

The simple answer to why I shoot film is because its fun, but you're probably not here looking for a simple answer. Have you ever seen an 8x10 image made on slide film? I have never seen such depth, colour reproduction, or sharpness on any digital images, and it was something that I could hold in my hands. Now don't get me wrong, I'm not knocking digital in anyways, it still holds a place within the photographic community and space, but for me, digital never really cut it. There was no tangible connection to my photos. It was an image on a screen. I feel I can create stronger images with film than I ever could with digital. It just makes me slow down, make sure everything is right, the first time, and to actually enjoy shooting and creating. It also has to do with a level of control over your images, from choosing the film, camera, lens, based on what I have already pictured in my mind first, and then choosing the things needed to create that. It becomes more than just applying filters and sliders in a computer program, but being able to do it physically, choosing the right film, then matching it with the right chemistry to process it in. It's the perfect blend of science and art. There's just something special about loading this thin piece of plastic into a tank, pouring in chemicals, in sequence, sloshing them around and pulling it out, and having images appear, or watching an image show up on a piece of paper that you just exposed to light behind one of those negatives. It is something that I created, starting first with my heart and mind, and then setting about creating it. That's why I shoot film.
---
Frequently Asked|

Questions

Online Usage of My Work - I'm always glad to lend my work for online usage on websites and blogs. In the case of non-profits I'll give free use of my work for proper credit. In the case of marketing use, I do charge a fee of 25$ per image. Please contact me via email to arrange for use. A full resolution image will be provided.
Print Use of my Work - Like online usage I'm more than happy to allow my work to be used for print purposes. The same rule applies, non-profits will be allowed free use of my images with inclusion of proper credit. All others a fee of 50$ per image will be charged. Please contact me via email to arrange, and also provide details on image size, resoltion, and format for your printer.
Ordering Prints - Just want to hang my work on your wall, I can do that do! My full online cateloge is avalible to anyone and printing is done through a local professional printer in sizes ranging from 8x10 to 24x36 (15$ to 95$). I also can make tradtional darkroom prints ranging from 5x7 to 11x14 (10$ to 30$). Simply send me an email to arrange for the prints.
Where do you get your film - Most of my film I purchase through Burlington Camera as well as through Argentix.ca and the Film Photography Project. I also purchase any needed chemicals for home processing as well as accessories.

---
Published|

Works
August 2007 - Abandoned Hamilton - A collection of photo from the abandoned spaces of Hamilton, Ontario
September 2007 - Presbyterian Record - Article "Are You Telling Me Something" and Various Photography
September 2008 - Triumvirate - A collection of photos from the three big abandoned spaces of Toronto, Ontario. The Richard L. Hearn Generating Station, Canada Malting Co. Plant, and the Don Valley Brickworks.
September 2008 - Testiment - A book created to celebrate the 75th Annual Presbyterian Young People's Fall Convension.
December 2008 - GalleryDK - PhotoLab Show
May 2009 - Second Place Winner - Don Jail Photo Contest - "Another Block"
September 2009 - Presbyterian Record - Article "Welcoming Awareness" and Various Photography
September 2009 - Glad Tidings - Various Photography
March 2010 - Northern Lights - A travel log book of various northern Ontario towns and abandoned spaces.
December 2010 - Windows Of Knox, a fundraising project for Knox Presbyterian Church in Milton, ON.
July 2011 - Voices In The Dark - Telling the last tales of the abandoned buildings I have explored.
December 2016 - Fire & Blood: A Pictorial History of the Anglo-American War of 1812 - My five year project exploring the history of the destructive war that pitted the British Empire against the young United States of America. A historical narative follows the causes of the war to the ultimate concultion and the effects that are still felt today.
March 2017 - 52: A Year on Film - A collection of images of my successfully completed 52-Roll project, while I've done many of these, this was by far, my favourite.
July 2019 - 100th Meridian - A photographic 'zine created from images taken on a trip out to Saskatchewan.
September 2020 - Acts of Confederation - My second major Canadian History Project related to the strange journey from colonial provide to semi-independent nation.
September 2020 - HomeTown - A Photographic 'Zine based on the Hometown Project.
September 2020 - The Invasion of Georgian Bay - A Photographic 'Zine from the 2019 War of 1812 Grand Tactical at Discovery Harbour.
November 2020 - The Canal - A pictorial history of the Welland Canal from 1824 to 2020.
November 2020 - Between Darkness And Light - A collection of 100 images from my Urban Exploration adventures, favourite images from favourite locations.
January 2021 - Lost in a Sea of Green - Recalling the awesome history and photography I got while exploring Hamilton's old Firestone Tire Plant. Built in 1929 and demolished less than 100 years later in 2012.
December 2021 - A Faded Glory - Recalling the history of the Railway within Canada and the surviving stations, rolling stock, and infrastructure within Southern Ontario.