Here at the Classic Camera Revival, we are big fans of getting things done ourselves! We love to process our own film, but today we're talking about two different things the first is creating your own photo 'zine or book and we have our special guest Matt who takes things a lot further and builds his own cameras.
When it comes to creating your own photographic 'zine or any publication is to make it your own, don't try to do something you're not comfortable with. Pick a topic and run with it, and do it the best you can. You don't need to tell a story if you're not comfortable with that method, a zine can even be a year in review or a collaborative effort of a whole group. Now in the past, a lot of 'zines were done by hand, hand types, laid out and then photocopied. But these days there's plenty of online options that can produce high-quality publications. Of course, once you start getting into the online printing you do have to watch out for image quality and colour profiles. The standard monitor outputs RGB while printers use the CMYK colours. If you are using colour, it's best to output them as CMYK and using your publishers or paper's ICC profile. The best part is that those ICC profiles are easily downloaded from the publishers or manufacturers websites and are free. As for online publishers, the easiest one out there is Blurb and they have two excellent pieces of software that make creation easy, BookSmart is the simple and BookWrite is the advanced version, we highly recommend the BookWrite software as there's a lot more control. Of course, if you have a lot of experience you can do all your layouts using software like Adobe InDesign which you can then use of higher-end publishers like Mixam which now operates in Canada. Just make sure that in any case, you're working with your publisher to make sure your output files will produce the best quality that their printers can output.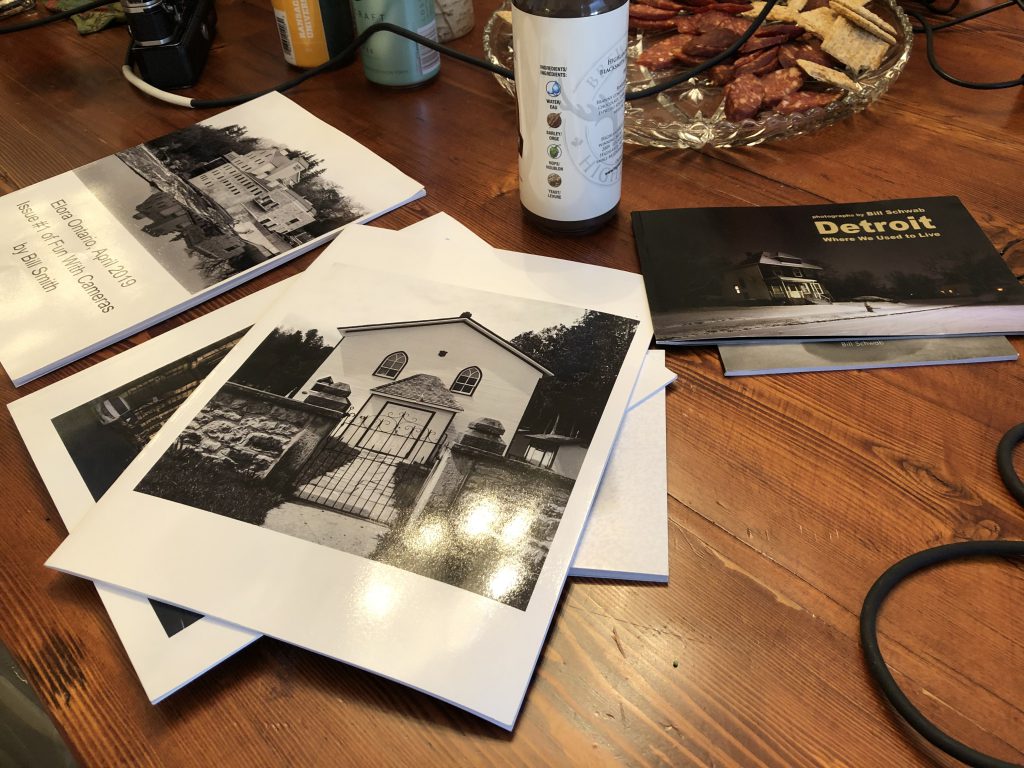 In today's episode, we have the made camera engineer Matt Benchberger. Matt as you know successfully launched and funded the ReviniLabs shoe-mounted lightmeter. Now, this is an amazing feat, but Matt has been building his own camera for years. Starting in college he began to use his math and engineering skills to build pinhole cameras first. But afterwards, he branched out, building a 6×17 camera based around large format glass. And he now has a massive collection of cameras from a ultra-wide camera that uses a Hasselblad back, a foldable monorail camera, to his own 4×5 technical camera.
Want a subscription to PhotoKlassic International and are a fan of Classic Camera Revival? Visit their shop online and buy a magazine or a subscription? Looking for a good spot to get your gear and material fix check out Burlington Camera (Burlington, ON), Downtown Camera (Toronto, ON), Film Plus (Toronto, ON), Belle Arte Camera (Hamilton, ON), Pond's FotoSource (Guleph, ON), Foto Art Camera (Owen Sound, ON). Out West there's The Camera Store (Calgary, AB) and Beau Photo Supply (Vancouver, BC). Additionally you can order online at Argentix (Quebec), buyfilm.ca (Ontario), the Film Photography Project or Freestyle Photographic. Looking for development options, check out these labs that have our support, Boréalis Photo Lab, Old School Photo Lab, The Darkroom, and Film Rescue International.
Also you can connect with us through email: classiccamerarevivial[at]gmail[dot]com or by Facebook, we're at Classic Camera Revival, Twitter @ccamerarevival, and Instagram (@classiccamerarevival)!