The whole gang is back together around the round table (virtually)! Back earlier in the year John was clearing out some of his boxes of strange M42 lenses and came across four 'fourth party' lenses and decided that they would make excellent fodder for a future CCR episode and handed them out through random draw to everyone. And today the episode finally hits the air! But we're not only talking about bad (but not all so bad) lenses, we're also digging into our photography book library to talk about some of our favourite books on our shelves.
From the Junk Drawer
The cusp of the early 1970s saw the introduction of inexpensive optics, both zoom and prime lenses into product lineups. First party manufacturers like Nikon, Canon, Asahi Pentax and such were putting out zoom lenses to an eager marketplace. For the budget-minded who could not afford OEM zoom lenses, looked at other manufacturers. There were plenty of brands like Vivitar who outlined design specifications and farmed manufacturing out to Kiron and Tokina while they focused on Marketing. Then there were other brands like Polaris, Sun, Praktica and Hannimar whose product providence was a lot murkier. And it is these lenses we are exploring today.
Polaris Auto Zoom Lens 1:3.6 85-205mm
Ok, the Polaris 85-205 F3.6 Zoom lens is well built, you would think it was made by Asahi Pentax with that super smooth dampening. The optics however spoke differently. While not awful per se, compared to what you could find from the likes of Vivitar at the time, it was a turd. The real test was the optical formula and lens coatings and the aftermarket guys didn't have the same research and development budget that Nikon and the company had. One could make a really cynical comment that the rampant sexism in the third party ads (classic girl in a bikini hustling lenses) in the camera magazines of the day was to distract from the fact it was a mediocre product. The consensus around the campfire amongst lens nerds was Sun Optical or Sigma made lenses for Polaris while with Vivitar you can tell by the first two digits who made their lenses the same can't be said for Polaris. The test shots were taken on my trusty Pentax Spotmatic SP with Rollei RPX 400 and were hand metered with a Sekonic L398a. Also bear in mind there was no filter or lens hood with the lens, both can improve photo quality to a point. In short, compared to other third parties/aftermarket lenses out there the Polaris is a turd, and it's a tough one to polish.
Hanimar Auto Lens 1:2.8 f=135mm
The best answers to questions in photography often begin with the phrase, "it depends." This phrase holds true in my overall assessment of the Hanimar, 135mm 2.8 Automatic "junk lens". But first a brief history lesson. The Hanimar lens was distributed by Hanimex, an Australian import-export firm, founded after WWII by German refugee Jack Hannes. The name is an abbreviation for Hannes Import Export. The company sold a variety of cameras, lenses, slide projectors and, for a shorter time, handheld electronic calculators. If asked to describe this lens in one word, it would be a "sleeper"; there's really a lesson in not judging a book by its cover where this piece of glass is concerned. It's surprisingly sharp and has pleasing out of focus areas. In the short time, I tested this lens I must admit I didn't do it justice in terms of shooting and developing. Despite my very limited use of the lens and accounting for a development error and some metering issues with my Pentax Spotmatic, this M42 mount, 6 bladed aperture, (unfortunately my research didn't yield any findings on the design of this lens), does appear to be coated; the results were quite good at medium apertures. Overall I find that the rendering of this lens, is very close to the Tokina 135 2.8, and for an average price of less than $50 CAD, it's a great value. I did find softness wide open, but I think in the right shooting conditions with a smooth-grained film any photographer would be pleased. The lens performed best between f4 and f8 and would definitely benefit from a lens shade as I found it prone to flare. Definitely a good buy for your M42 system, it's not necessarily going to be a top-shelf lens.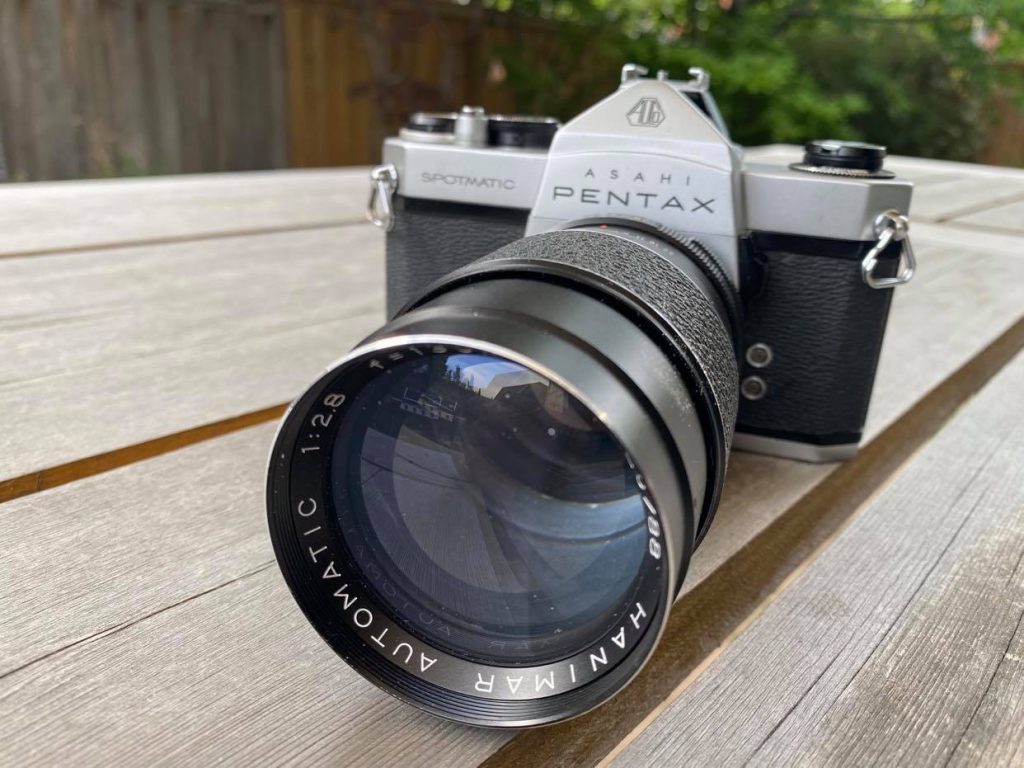 Sun Auto Zoom 1:4.8 85-210mm
When it comes to cheap zoom lenses, I'm not one to grab them off the bat. The main reason I only have a single M42 camera in my collection, a Zenit E. Now the trouble here is a mismatch, the Sunn is an Auto lens, the Zenit has no auto…anything except the meter. The lens itself isn't bad, the Sun Brand was used by an American firm, Spiratone. Spiratone being mainly known for its low-cost camera equipment and the brainchild of Fred Spira who started the company in 1941 from his parent's bathroom which doubled as his darkroom. Which despite its 'crappy' start ended up being a multi-million dollar mail-in company. Spiratone also was among the first to import Japanese lenses into the USA following the Second World War. Noted Photographer and writer for Popular Photography Herbert Keppler noted that Spiratone Products were often equal to some top-tier equipment. And that brings me to this lens, it would never be one that I reach for, but it is not a bad lens. What made the experience all the more interesting is that I had to shoot the entire roll wide open at f/4.8, which I metered at f/5.6 and pretty much shot at 1/500″ with a one-stop over-exposure and pull in development. There are some interesting optical aspects, a bit of fall-off at the edges and some swirling in out of focus elements, but good sharpness at the centre. There is a bit of flare, but the lens only has a single coating. I'm sure it will be a much stronger performer on a camera that supports auto-aperture.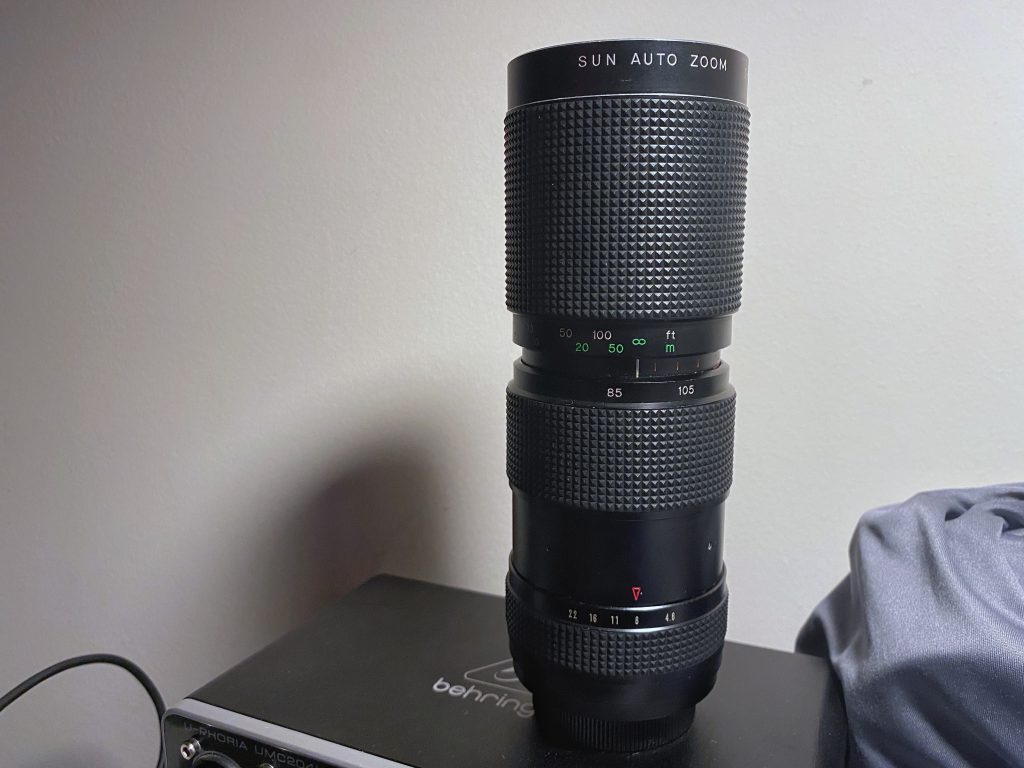 Praktica 1:2.8 f=135mm
The history of this lens is more intriguing than the results I got with it. According to what I have read, this lens is an M42 mount Korean-made copy of the East German-made B-mount Prakticar 135mm f2.8 which itself is a re-mounted version of the Pentacon 135mm (made by Meyer, 5 elements-4 groups Orestor formula) with 6 instead 15 diaphragm blades. The Orestor formula inspired by the Sonnar formula. Is that the end of the chain of copying? Who knows with this lens. On the positive side, this lens feels constructed, and the focusing is smooth. Overall the lens does not feel cheap the way a lot of modern non-pro lens can. The results? Sort of an old school look. The kind of images you would see in a high school yearbook from the 1970s. Nothing exceptional. Would make a good match with traditional grained film for retro portraits. I need to shoot it some more before I render my final verdict.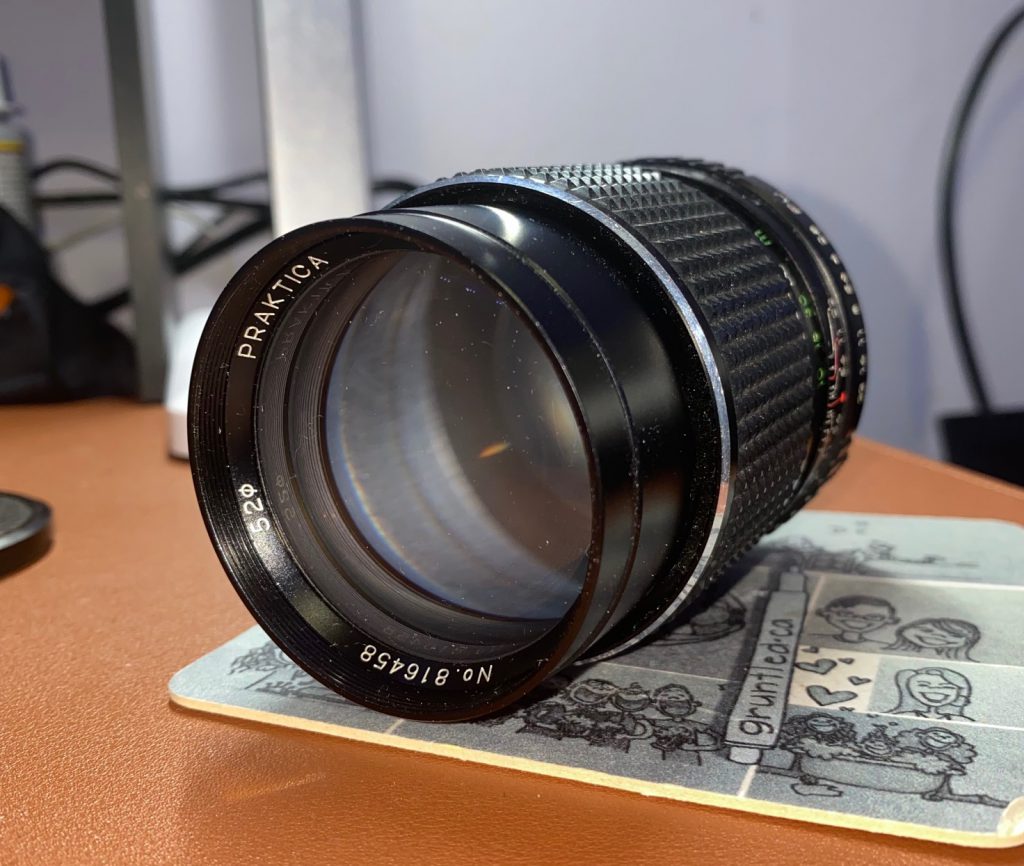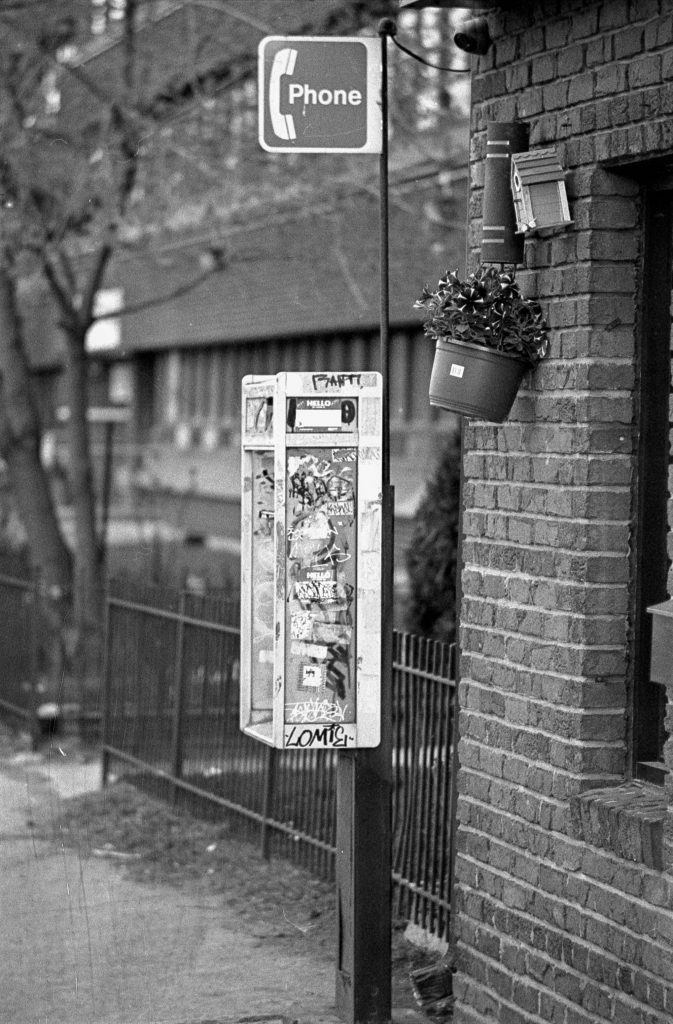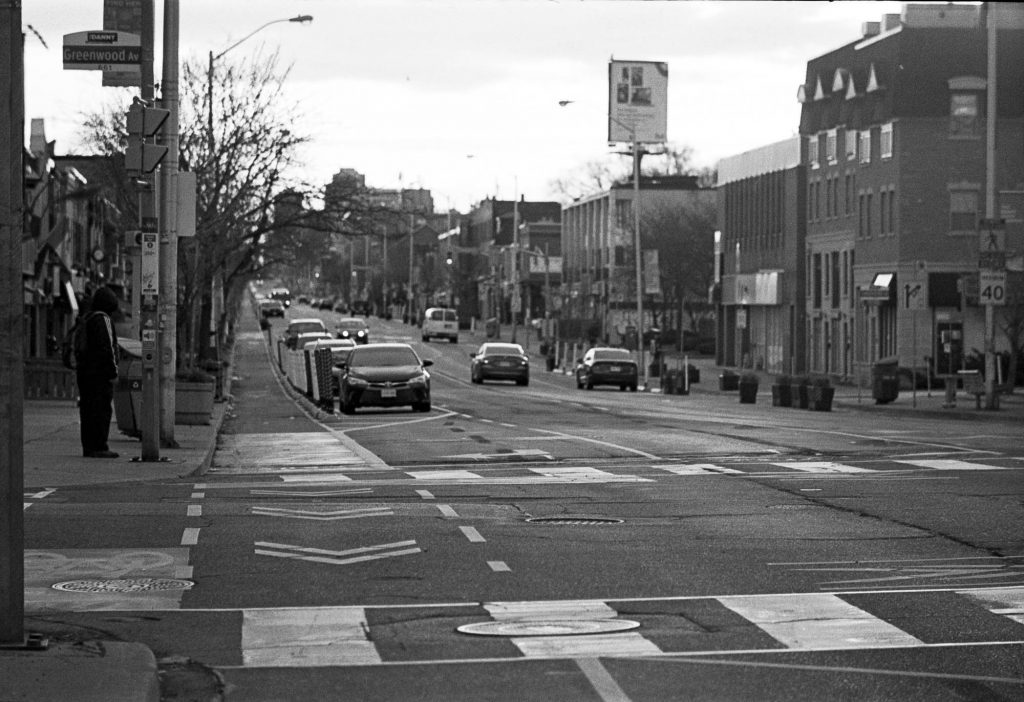 From the Bookshelf
Magnum Landscapes – Phaidon Press, 1996 (Out of Print)
Everyone loves Ansel Adams, I love Ansel Adams, that said his work has not influenced me anywhere near as much as this book of landscape photographs taken by the greats in the Magnum Photo Agency. Trying to remember where I got this book Either Edwards Books and Art or Pages on Queen St. or Nicholas Hoare on Front St. in Toronto in the very late 1990s when I was starting to get into photography. Sadly all the book stores mentioned are long gone and all had amazing photography/art sections. When you think of Magnum Photo Agency and its stable of photographers, you think of photojournalism at its peak. The greats like Henri Cartier Bresson, Eve Arnold, Ernest Hass also documented the landscapes their stories took place in. What I loved about Magnum Landscapes while taken by accomplished photographers, they are landscapes taken by photojournalists. They don't have the meticulous perfection of a photograph shot on a 4×5 or 8×10 view camera but something rawer in 35mm shot on a Leica, a Canon F-1 or Nikon F2 not just in the countryside, but in the city and suburbia too. If anything Magnum Landscapes has been a huge influence on my work over the past 20 years of shooting. The book first published in 1996 has been out of print for a long time now but can easily be found on used book sites for about $9-15 USD depending on condition.
Photography by Bruce Warren
I believe that every serious photographer or someone aspiring to be a serious photographer needs a comprehensive reference to help them understand all of the nuances of photography; the second edition of Photography by Bruce Warren (ISBN: 9780766817777) is that classic reference book. Full of easy to understand how-to information for B&W and Colour photography that can be used in both the film and digital world this book will allow you to learn about the why behind many photographic principles that can be applied immediately to help improve your understanding of photography and help build a foundation of knowledge you'll use forever. I think this book should be in every photographer's library.
Paris Eugene Aget
Essays by Andreas Krase
Edited by Hans Christian Adam
Atget is one of my photographic heroes and this book more than does him justice! It starts off with old Paris architecture work Atget is most famous for. Beautiful reproductions, lovely toning with an emphasis on full-page plates. The images stand on their own. There is also a great section on street vendors, and the book also contains some lesser know work by Atget. Great for a deep dive! The essay by Krase is very good: it puts Atget's work on old Paris into historical perspective, why it was so important, as well as containing useful commentary on his gear and approach to the work. A historical timeline of his life and work is also very useful for learning about the man behind the camera.
ISBN: 3836504715
ISBN 13: 9783836504713
Publisher: Taschen
Publication Date: 2008-08-01
Circumstances alter photographs: Captain James Peters and the war of 1885
When it comes to combat photography, the earliest examples came during the Crimean War and American Civil War but the problem with those wars was that the technology of the day, specifically wet plate prevented the photography of actual combat. But when you skip ahead to 1885 the power of dry plates allowed Captain James Peters of the Royal Canadian Artillery to bring along a camera and a selection of plates to capture his deployment during the North-West Resistance. During that time Captain Peters exposed seventy plates and wrote a series of reports back to a Quebec Newspaper. This is the first occurrence of actual photography taken during combat The book contains not only a modern take by the author, Michael Barnholden on the photography and the reports, but also the replicated some of the original contact prints of the plates but the captain's original reports. Sadly upon his retirement as a Colonel, Peters smashed all his original plates in 1906 meaning that only a handful of original contact prints survive and provide a visual record of the conflict and some of the final photographs of Louis Reil It's important especially these days given our current rocky relationship with Canada's indigenous population, as the events leading up to the second rebellion lead by Metis leader Louis Reil and the events afterwards have to lead to the current situation in Canada. If you're a fan of history, combat photography, or want an insight into current events, this is a book for you.
Publisher: Talonbooks
ISBN: 0889226210
Want a subscription to SilverGrain Classics and are a fan of Classic Camera Revival? Visit their shop online and buy a magazine or a subscription? Looking for a good spot to get your gear and material fix check out Burlington Camera (Burlington, ON), Downtown Camera (Toronto, ON), Film Plus (Toronto, ON), Belle Arte Camera (Hamilton, ON), Pond's FotoSource (Guleph, ON), Foto Art Camera (Owen Sound, ON). Out West there's Kerrisdale Cameras (BC), The Camera Store (Calgary, AB) and Beau Photo Supply (Vancouver, BC). Additionally you can order online at Argentix (Quebec), buyfilm.ca (Ontario), the Film Photography Project or Freestyle Photographic. Looking for development options, check out these labs that have our support, Boréalis Photo Lab, Old School Photo Lab, The Darkroom, and Film Rescue International.
Also you can connect with us through email: classiccamerarevivial[at]gmail[dot]com or by Facebook, we're at Classic Camera Revival, Twitter @ccamerarevival, and Instagram (@classiccamerarevival)!