Here in southern Ontario, I could not have asked for a better week to celebrate Holga Week 2022. After last year, when it rained for most days, I only shot a single roll through the iconic plastic toy camera. But then again, I was doing a video for YouTube, so I had to make some sacrifices. This year I had planned to do a showdown between two Holgas of the same type and see how different the two cameras were from each other. But I forgot about that early enough to get that second Holga (maybe next year). So I decided to make the film stash clear during this year's Holga Week operation. I have a tonne of C-41 films in 120 hanging around, single rolls here and there, so I made a point to shoot most of Holga Week 2022 using these films. I got out for four of the seven days with the Holga, shooting two rolls of colour and two rolls of black & white.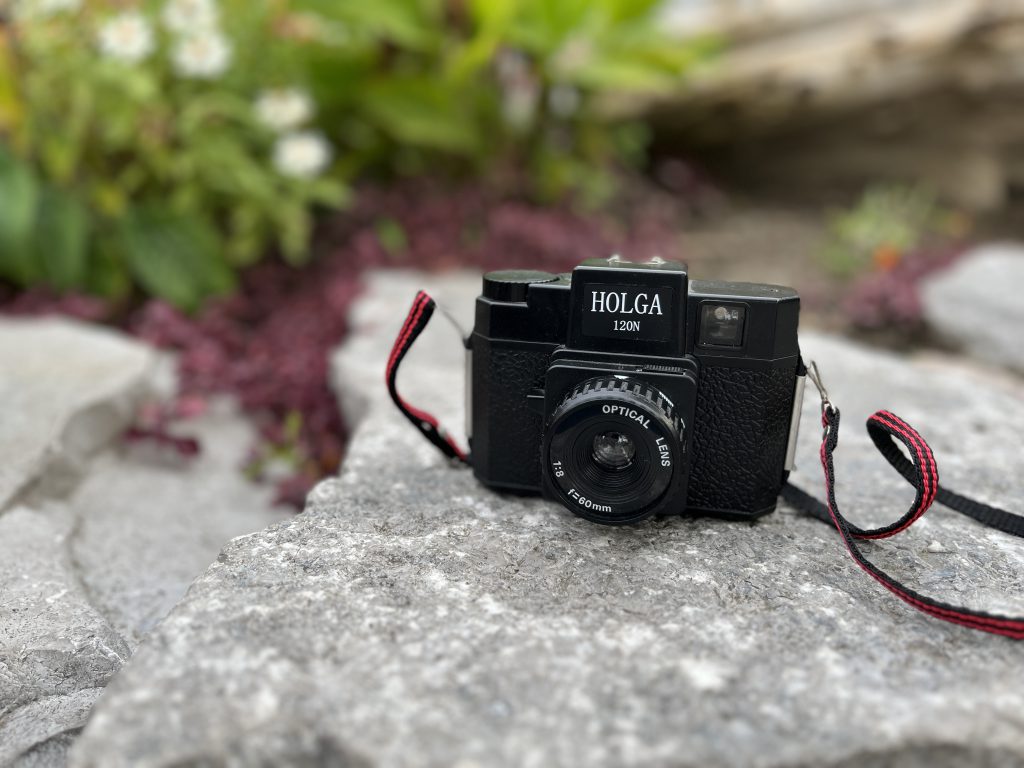 For the opening day of Holga Week, the family and I went to the Toronto Zoo. I mostly used my digital camera on the trip because I had a 100-300mm lens to get nice and close to the animals. But the Holga added a touch of fun, a roll of Kodak Gold 200 loaded up, and I was picky about where I use the camera, and I needed scenes where the animals were close to my camera. Thankfully the day was beautiful with lots of light and combined with the 'ish' nature of the camera, the Gold 200, with its range of latitude, was the perfect mix.
The second day out was the only roll of B&W, returning to an old classic, Ilford FP4+. I got out early before church, fired off four frames downtown, and then took the rest in 'new Milton' in the late afternoon. I needed an extra roll of film to make that night's developing session worthwhile. It was interesting to photograph at opposite ends of the day, with that early morning light for the first frames and then to finish the evening with the last edges. I think my camera has 'self-adjusted', and the aperture plate has shifted slightly as I'm getting much more vignetting along the top than the bottom. I'm not complaining, but it gives the images a more Holga look.
We're starting to see the leaves changing here in Southern Ontario, so I took it out to Lion's Valley; I recently 'discovered' a section of this massive system of trails along the Sixteen Mile Creek valley. The southern end is probably the most picturesque as it retains much of the original forests that once filled the valley. So because of the nature of the Lion's Valley Park area, I went again with Kodak Gold 200 and hit the trail. Now the path into the valley is steep and much easier to go down than climb back up.
I wasn't planning on shooting another roll through the Holga this year, but I also wanted to make sure I had fresh film for an upcoming video review shoot, so I grabbed a roll of Ilford HP5+ for a final day of shooting for Holga Week. Now I don't usually go with a 400-Speed film with the Holga, but I also was going to do something different. Last year I got the Holga up on a tripod and used a meter for shooting indoors. Is using a meter cheating, but if I'm going with bulb mode and a tripod, I might do my best to get as near a good exposure as possible. And that's what I did for the roll of HP5+. Taking the camera around the campus, both above and below ground.
For all the past times I've participated in Holga Week, this year I went big and shot five rolls, that five out of the seven days. Which for me is a bit of a personal best. The Holga is a fun camera to use, and the quality of the images that come out of it always surprises me. Of course, these aren't for everyone; many feel they are a film waste. And that's fine; I have to be in the mood to use the camera, which is why I don't always pull it out as default. But on the flip side, that makes Holga Week much more enjoyable because I'm not used to the images and can always find something interesting in areas that I usually photograph. If you want to see more of Holga Week, head over to Flickr and check out my album of this year and past years of Holga Week!