While developing a colour-negative film is not as exciting as slide film, it is still satisfying. And while some might be hesitant these days to risk processing colour film in a home environment due to the increasing price and lower availability of colour-negative stocks, it is a way to help reduce the cost. And if you are a bit wary of the process, don't worry. I was also when I first started, and while I did mess up the first set of four sheets of Ektar (yes, 4×5 Ektar), I soon figured out where I made my mistakes. Colour Negative processing uses those processes if you have the skills in processing Black & White and E-6 films. And the Unicolor C-41 kits make it easy to produce good-quality negatives in a home environment.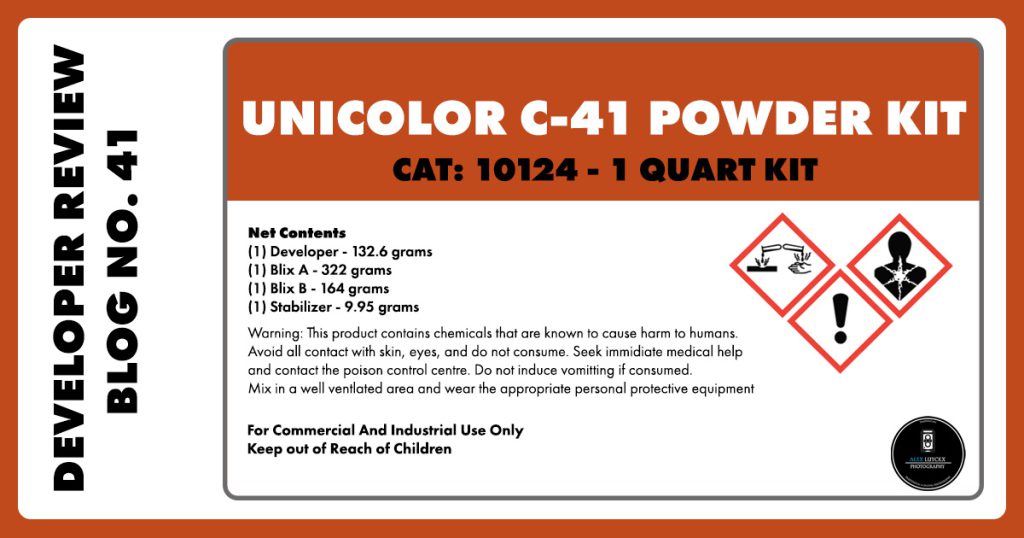 Technical Details
Manufacturer: Unicolor
Name: C-41 Kit
Primary Developer: CPD-4
Type: Reusable
Mix From: Powder
Handling
The Unicolor C-41 kit is available in both powder and liquid concentrate form. While both have long life spans in concentrate/powder form, once mixed, the life is only a couple of months if properly stored. Once the kit starts to be used, the developer is the weak point, as it only has enough life for eight rolls of 36-exposure 35mm rolls or 120 films; it will also process thirty-two sheets of 4×5 or an equivalent number of 8×10 sheets. Although in practice, it can handle up to ten rolls of film. These numbers are based on a one-litre kit. The kit has three chemicals, a developer, a blix, and a stabiliser. Mix these with water (distilled if you are unsure of your home tap water quality), and heat to 44°C (110°F); the developer comes in one pouch, the blix in two (A then B), and the stabiliser in a single bag. While some say the stabiliser is unnecessary, I've found it helpful to cool off the film to improve the drying process and maintain archival stability. Processing is done at a temperature of 38°C (102°F); it is best to heat the chemicals in a water bath and either constantly swap out the water with fresh higher, temperature water or use a water heater to maintain a constant temperature. The one step to watch out for when processing is the blix step, as it produces a lot of gas; running a rotary processor is best to use tanks with a gas valve or manually 'burp' your tanks. Suppose you plan on processing a motion picture film with the remjet layer intact, removing the remjet first, using a mixture of water and baking soda and running water until it runs clear. Also, if you are doing a batch of film, run the remjet film last, as you may be able to remove a majority of the remjet, but some may still be present and could contaminate the kit. I find it best to shoot a batch of colour film, then mix up a kit and process over two to three days to ensure you maximise the life of the kit.
Applications
Like the E-6 kit, the Unicolor C-41 kit does one thing well, developing colour-negative films. It will handle everything from consumer films like Gold, ColorPlus, Superia, and the Lomography stocks. It also does professional films like Porta and Ektar. And in any format from 110 to 8×10. The kit will also take care of the chromogenic black & white films, Ilford Super XP2, but will produce a black & white negative. You can also use this kit to handle both push and pull the development of your film, you have to adjust your times, but the kit includes a handy guide to changing your times. At the same time, this kit will not work on traditional black & white negative films or slide films. The kit can cross-process motion picture films (ECN-2) and regular slide films (E-6). In the case of the slide film, you will get a colour negative result and see colour shifting similar to what you would get when processing slide film in ECN-2 chemistry.
Qualities
When done correctly, the C-41 kit doesn't impart any real qualities in the developing process. When it comes to colour film, the real attributes come from the films themselves. That said, the kit produces excellent results in the many films I've processed, both professional, consumer and even expired stocks. As I mentioned initially, this depends on running the process correctly. The easiest thing to control is temperature; it is best done at the proper temperature for the method you're processing with; the hand tank method calls for a temperature of 38°C (102°F), but you do have some margin for change, but don't let the temperature drift too far past one degree in either direction. For best results, stick within the documented amount of film processed; any more, you may want to extend your development time or dispose of and mix up a new kit. Also, if you're unsure of the age of the chemistry, it is best to run with new chemicals. Any changes here will result in underdeveloped negatives and colour shifts. Sometimes, you can fix these in your scanning and post-processing. You will also notice some colour changes when cross-processing.
Lowdown
As someone who doesn't shoot a lot of colour film, having the option to easily and quickly process a batch of rolls when I do shoot colour film is a nice thing to have in your chemical kit. And thankfully, the Unicolor kit is readily available in physical stores and online retailers. And that's being here in Canada; there are several retailers that I trust and know who carry it for a fair price. And the Unicolor kit makes life easy; the powder form keeps for an extended period and mixes up easily. And processing multiple types of film in one go helps a lot and makes it efficient. With the cost of these films going up, even expired stocks, saving a bit of time and money in the process is an excellent bonus.
Recommended Reading
Don't just take my word on Unicolor C-41 Kit. Check out these other blogs on the subject!
No reviews were found.