While not as keenly felt when it was discontinued at its colour brother and faster cousin, FP-100b is the black & white instant film offering from Fuji that took a minimal role in my exploration of pack film. Rated at ASA-100 and with plenty of contrast to offer, FP-100b is a film that I honestly have no accurate remembrance of, having only shot three packs of the stuff in my entire time shooting the format. Although it carries the same cult following as the rest of Fuji's FP lineup, I soon realised I missed the boat with this one. More keen on shooting colour instant film, as I had plenty of black and white film options in those days. FP-100b offered up a good image quality and a brilliant positive print, and one that kept the spirit of black & white Polaroid film alive at least until discontinuation.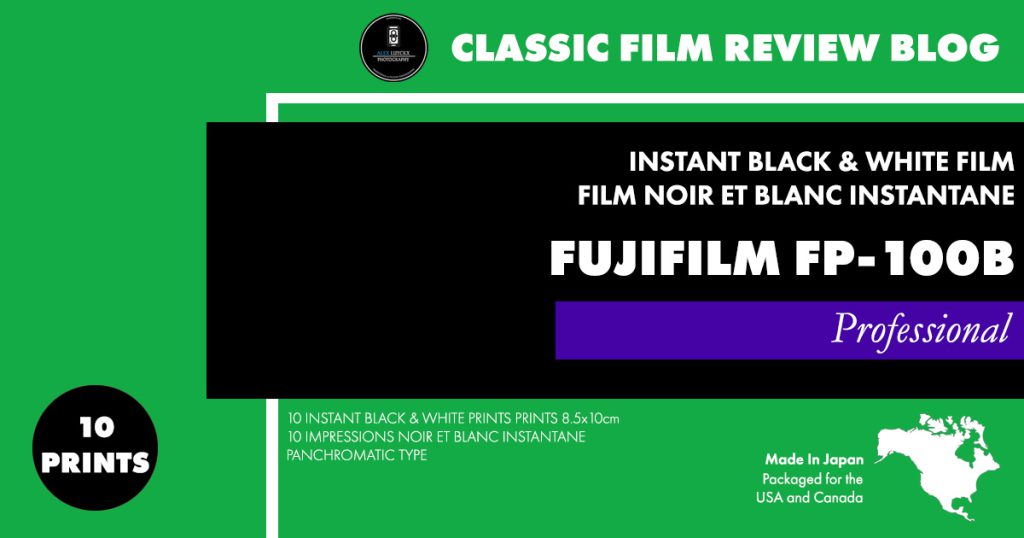 Film Specs
Type: Panchromatic Black & White Instant Film
Film Base: Acetate
Film Speed: ASA-100
Formats Available: Type-100 & 4×5
Discontinued: 2010
Colour Rendition
One of the best parts about FP-100b is that it is a fully panchromatic film with no loss of sensitivity on either end of the visible light spectrum. Colours are rendered in a beautiful greyscale which is well representative of a long tonal range. From everything presented and knowing the colours when shooting, FP-100b behaves like any other panchromatic black & white traditional film, which means you can start cutting the blue light by adding yellow filters. The overall tonal range of FP-100b is lovely, especially when viewing the print in person, things get a bit troublesome when you start to scan them and get a bit more compressed, and you begin to lose some of the mid-tones.
Image Quality
The image quality out of FP-100b is stunning; again, you have both a final print and a negative that you can recover. But as I never recovered my negatives, I will solely focus on the positive prints. And these prints are stunning, with amazing contrast and tonal range, especially when viewed in person. The big image size allows for a fine-grain print and decent edge sharpness. Of course, this quality depends on the camera you're putting the film through. A camera with glass optics will output a higher-quality print than one with plastic optics. And while I never could shoot this film stock through the Polaroid 600SE/Mamiya Universal, I can only guess at the hyperreal appearance the film would get when exposed through the Mamiya-Sekor optics.
Scanning
Scanning is where I feel that FP-100b falls; while FP-100c was incredibly easy to scan with beautiful colour replication, FP-100b is a bit of a bear. I admit that this could be because of my scanning workflow of the day, but I can honestly look at the scans and dig out the old prints (yes, I do have them saved) and think there is a significant difference between the two. You get a lot more compression on the mid-tones during the scanning process; this is only worse because I tended to retain the border around the prints to give it that 'Polaroid Look' everyone wanted. I did clean off the gunk because I didn't want to ruin my scanner glass. So this made it also difficult to recover those shadows and get the levels right. If you are working with FP-100b, I highly recommend that you mask off the image area and work only in that space to help get the best results from your scans during your editing process.
Overall Impression
I wish I had tried out FP-100b more than I did; it is a lovely film that filled that niche of black & white instant film without using the faster FP-3000b. I think I didn't use it as often because when I was starting to get into Type-100 film, FP-100b had already been discontinued. As a result, it was creeping up in price and was often unavailable. Today a pack of 10 will run over 100$ for a pack; you can save by purchasing the film in multi-pack eBay lots. You also have to watch out as the film is getting old, with most of them having a 2010 expiry and could suffer from catastrophic failure. But if you get a lot of good working film, you will be in for a treat, especially if you love shooting off the power of instant pack film, which I find far more satisfying than instant integral films.
Further Reading
Don't just take my word on FP-100b; you can check out the reviews by other excellent camera reviewers!
No Other Reviews Found