While I certainly used FP-3000b more than FP-100b, but still not as much as I thought I did. The best use of this film I ever got was on a road trip through Michigan, Ohio, Pennsylvania and New York in 2011 (!). FP-3000b is a high-speed instant film that was available in both Type-100 and 4×5 formats and certainly holds up to what a high-speed film should be, but made all the better by the fact that you got a big positive print and after careful preparation a useable negative. It is also one of the two Fuji Type-100 films missed the most by the Instant film photography community, along with FP-100c.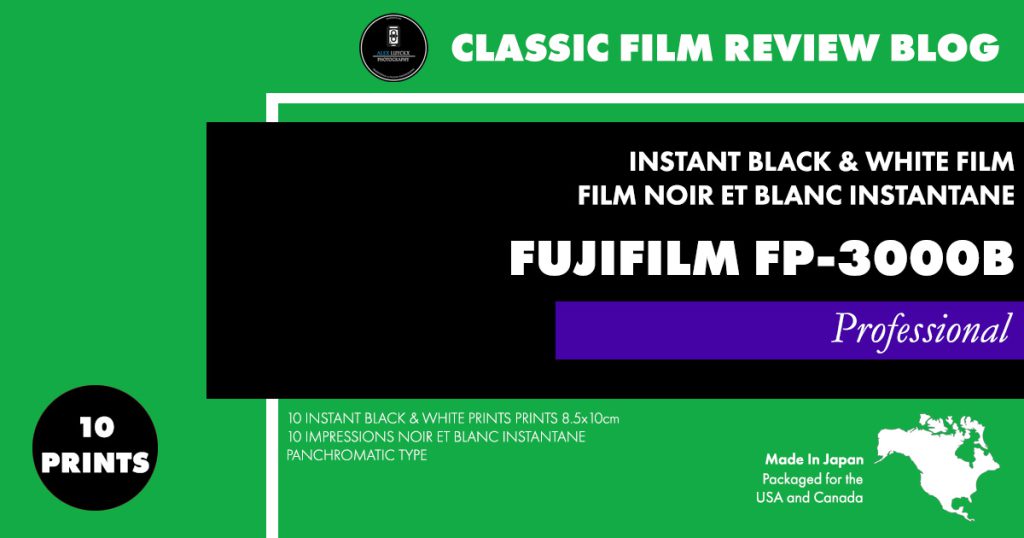 Film Specs
Type: Panchromatic Black & White Instant Film
Film Base: Acetate
Film Speed: ASA-3000
Formats Available: Type-100 & 4×5
Discontinued: 2013
Colour Rendition
There is a difference in how FP-3000b renders colours compared to FP-100b. Both are panchromatic. However, looking back through my images, I found that FP-3000b needs more sensitivity towards the green light. The film is not orthochromatic towards the green light; it lacks sensitivity when exposed to certain conditions. Besides that, the film stock has a beautiful tonal range and reproduces all colours in a faithful grey scale under ideal conditions. Tending to render reds the lightest, while greens are darker. Blues are okay, with most leaning towards the light end of the spectrum. It also does an excellent job with skin tones.
Image Quality
Despite being a fast film, FP-3000b provides excellent image quality. Thanks mainly to the large negative and delivered positive print. The images are sharp with some grain, but the grain structure only helps to add to your edge sharpness. The contrast is the best; I found FP-3000b to have a much more variable contrast depending on the conditions in which you exposed the film. This gives it almost a middle-high contrast which again helps add to the overall image quality and sharpness. Under hard direct light, you will get hard contrast, but it loves bright overcast or open shadows to provide the best possible contrast. Also, being a high-speed film, you can use the film under almost any conditions, both inside and out, with a Polaroid Automatic Land Camera, and you can adjust the lightness/darkness dial or open up the aperture when adjusting your film speed setting.
Scanning
I had to go back into my archives again to pull out these prints to give it another go at scanning so I could remember what it was like. I last used this film stock over a decade ago now. And here's the thing, I found FP-3000b easier to scan than FP-100b. The most significant part is the lower contrast on the 3000b; these prints scanned clean with little noise or aberrations added during the scanning process. The biggest issue you will face is whether you choose to keep the border. I always kept the borders in my scans to show I was working with an Instant print. Another option is keeping the envelope on the edges (I didn't do this with Type-100 but with larger 4×5 instant films); it's best to let it dry before putting it down on your scanner glass. The one thing I needed to remember was to mask out the border before making any adjustments to levels so as not to let the large area of white (or near white) that may throw off any adjustments. Like 100c, you can clean the negative portion of the film and scan that instead, but as I only shot this throughout a week-long road trip, I could not save these negatives and often dispose of them at the end of my day.
Overall Impression
I find it interesting that as a film shooter, I leaned into black and white with traditional films, and when it came to instant films, I almost always went colour. Like FP-100b, I shot only a few FP-3000b; most were shot during a solo road trip through the rust belt of the United States. I have good memories of the trip, shown in these images and the fact I kept them. Like the other two Fujifilm's Type-100 options, FP-3000b is getting expensive on the used market. The newest films sport an expiry date of 2015, which is starting to get up to a decade expired. Plus, you will begin paying upwards of 100$ for a pack of ten shots, and there is no real guarantee that you will get a good pack. On average, you're going to have to pay at least 15$ per shot these days. So it is best to get these from a trusted source. I liked FP-3000b more than FP-100b, but it is clear that my favourite was always FP-100c.
Further Reading
Don't just take my word on FP-3000b; you can check out the reviews by other awesome camera reviewers!
No Other Reviews Found