Whenever I think I have gotten to know what each photography company has to offer, I'm always surprised when something new comes across my desk. I always figured that Foma produced films and clones of other developers. But when someone commented on an earlier review about Fomadon LQN, I started to think that maybe other developers weren't cloned available. Sadly I couldn't get Fomadon LQN from my usual source (but a review is coming); the source did have LQR. So I grabbed a bottle, thinking there might be something to Foma developers. LQR is the high-contrast brother to LQN, and after my good luck with Kodak D-19, I figured another high-contrast developer would be a good thing to try out. And LQR certainly did not disappoint, but it is a limited developer without only a handful of times available.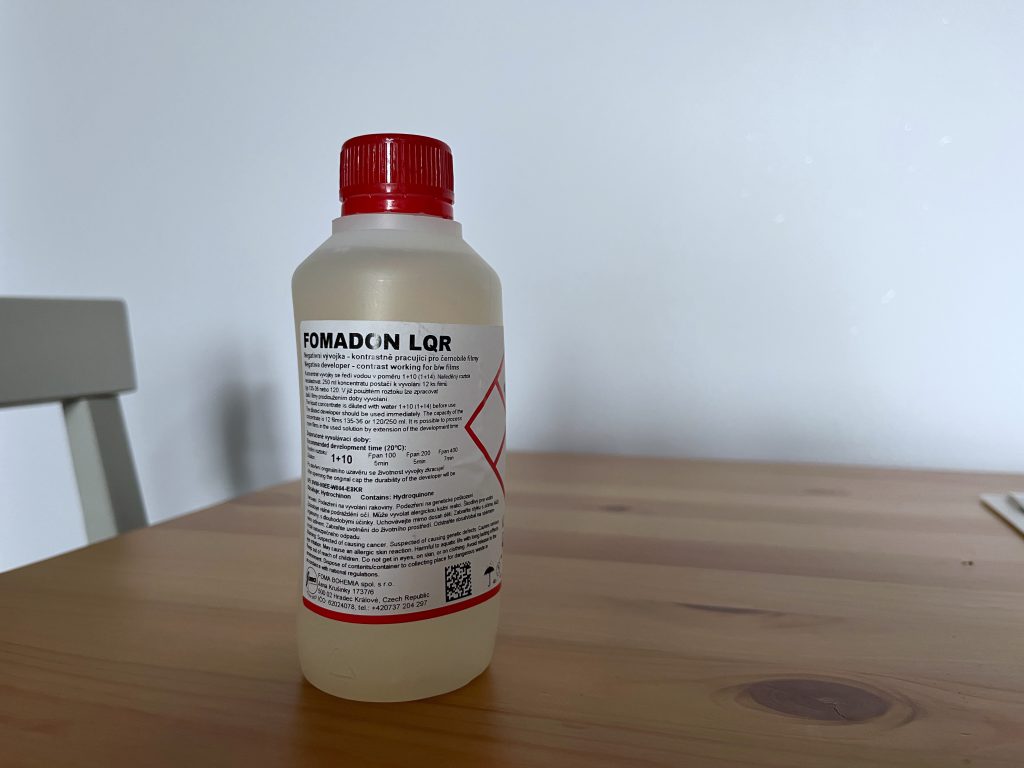 Technical Details
Manufacturer: Foma
Name: Fomadon LQR
Primary Developer: Phenidone & Hydroquinone
Type: One-Shot
Mix From: Liquid
Handling
LQR is a one-shot developer with two standard dilutions, most often out there with only a single dilution. I went with a 1+10 dilution for all the rolls I developed for this review. This dilution uses about 45mL of concentrate, giving you five development cycles for a bottle of 250mL, assuming you make up 500mL of working solution for each cycle. The concentrate is easy to pour, has the same viscosity as Ilfosol 3, and has the same almost yellow tint. So it both flows and mixes easily. Sadly I have not found any information on how the 1+14 dilution relates to the 1+10 or how to increase the development times based on the more dilute mixture. And the Foma website and datasheet have no information. Although I feel that the 1+14 mix is designed for use with reversal processing of Foma film in the Fomapan Reversal Kit. Also missing is any information online about the shelf-life of LQR, but taking an educated guess, I would say that the developer has about a six-month life in a sealed container. Once you open it, you might get a 1-2 month life for the developer. So best to start using it once you've cracked that seal.
Applications
I've been coming to terms with how to use these high-contrast developers, especially after seeing the stunning results from both Kodak D-19 and now LQR. And then it hits me; two notable applications exist for high-contrast developers. First, you need your film developed fast, then sent over the wire for publication in a newspaper. And if you've seen those old black & white newspaper images, you'll know that your tonal range didn't matter until recently; everything was pretty much black & white. And while most people aren't sending their field-developed negatives back over the wire, this brings us to the second application. I was adding contrast when I developed my rolls of Fomapan 100 and Arista EDU.Ultra 100, I noticed a fundamental difference. The Arista's contrast had been cranked up to eleven, while the Fomapan was a nice clean middle contrast. The difference was the Fomapan had been shot under low contrast, over-cast misty conditions, while the Arista was under hard, harsh sunlight. So LQR is excellent when you add contrast to your negatives to compensate for low or middle contrast conditions. It can also work to bump up the contrast on low-contrast films. It may also work well for a main developer in a black & white reversal process. But here's the rub, there aren't a lot of times out there for LQR, and all of them are related to Fomapan films; I was lucky to find two times for Ilford films on the Massive Dev Chart and one I wasn't too sure about. The developer did beautiful jobs with Fomapan 100 and Fomapan 400. While it worked okay with Delta 400, I think the time could be knocked back and regular or constant agitation applied.
Qualities
LQR is described as a high-contrast developer, so let's start there. This description is not the best; I would instead call it a contrast-boosting developer. Don't take this as a bad thing, as in many cases, this developer can help out in low-contrast situations, both environmental and films that need that boost. And LQR does this well, you get that contrast boost in every case, and it wasn't too much to compress the tonal range. At least in low-contrast lighting, the tonal range is compressed in high-contrast light, but not to the point where I lost all my mid-tones. I probably should have pulled the film in development with an over-exposure in the field. While documentation describes LQR as sharp and fine-grained, I can agree that the images are sharp, both in the edges and the tonal range, when contrast increases. But it doesn't do much with the film grain, which is both good and bad. If you're working with a fine-grained film, it will remain fine-grained. But if you have a grainy film, that grain will still be present. I found that most noticeable with Fomapan 400 and Ilford Delta 400, whereas the grain remained fine with Fomapan 100 and Ilford FP4+. But in both cases, the grain remained pleasing and worked.
Lowdown
I like LQR; the only problem is getting it here in North America is a bit hit or miss. There aren't many shops in person and online that carry Foma developers. Foma films are easy enough. But I have to order from a European distributor for most Foma developers, so that shipping can be a bit pricey. LQR, like Kodak D-19, is a developer I don't see myself using regularly; I can see it having a place within my toolkit when the situation requires it. Low-Contrast films, and low-contrast lighting that a boost is needed, both developers will play to those strengths. It also helps that all the developing times are primarily short, so if you are pressed for time, using LQR might help knock through a backlog of Foma films. Will I use this again? Probably not, mainly because of the lack of availability here in North America and available times. But if you are over in Europe, this may be an excellent developer to keep in the back of your head. It might even do well for dry plate development.
Recommended Reading
Don't just take my word on Fomadon LQR. Check out these other blogs on the subject!
No Other Reviews Found