Light or Dark, Chocolate is one of my favourite treats, especially in ice cream form. But when it comes to film, it becomes a classic type 100 film that I loved to work with for the limited time I had access to well-stored packed. I first got a taste for this lovely film during the earliest days of the Impossible Project when the folks got their hands on an entire warehouse of new-old-stock of integral and packed films and sold them to help raise capital for the recreation of integral films. And I went with a whole pile of different options, colour, black & white, and two false colour films, sepia and chocolate. And while the colour and b&w were both excellent, the sepia proved to be lacklustre, while chocolate quickly became a fast favourite. I promptly purchased another couple of packs before they vanished forever.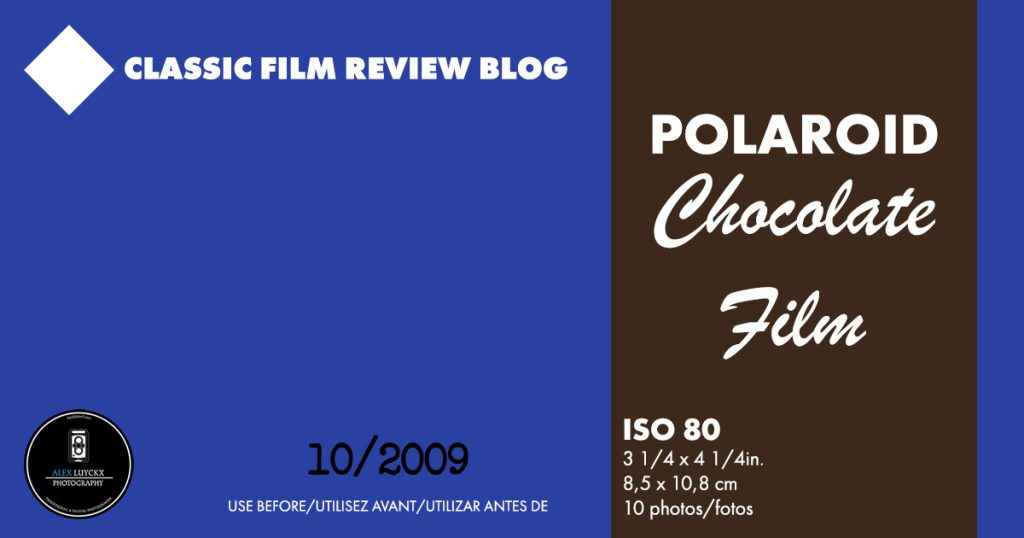 Film Specs
Type: False Colour Instant Film
Film Base: Acetate
Film Speed: ASA-80
Formats Available: Type-100
Colour Rendition
You are not going to get your regular colours here, but things won't be as crazy as what you get from other modern false colour films (I'm looking at you, Lomography). But instead, you get a more elegant false colour. Things are rendered in a deep rich brown and shades of those browns. Think of it as a B&W film in shades of brown rather than grey. And one of the best parts of this film is how much contrast you want depends on how long you let the film cook and the conditions you allow it to develop. Unlike the modern Fuji pack films with a hard stop integrated into the technology, OG Polaroid does not. Under ideal conditions, you get a smooth tonal range with no natural whites or blacks. This rendition is expanded even more if you're under warmer conditions (like inside an abandoned building in the middle of summer). Under colder conditions, you get a far more compressed tonal range and a more contrasty image with things closer to blacks and whites. You can also do this by using less or more development time. Regarding colour sensitivity, the film is panchromatic, with no bias to any end of the colour spectrum, with everything being translated fairly faithfully into scales of brown.
Image Quality
The image quality of Chocolate is superb; this is better than any film I have seen from Fujifilm and among Polaroid films. The low speed (ASA-80) is limiting, but you get a near-grain-free image. But you also get a sharp image, which is saying something because I shot this through plastic and glass lenses and didn't see any difference in sharpness. Of course, I never shot this through Mamiya-Sekor glass, but I can imagine how good it would look through those beautiful pieces of glass. And while there is no grain, you will notice a beautiful texture on the scans that adds character to your images. The texture is imparted by the paper where the positive image is developed. I don't recall if you can recover the negative from Chocolate, but I don't believe you can. When it comes to tonality, Chocolate is beautiful. Of course, it all depends on the conditions and time you leave the film. But working under ideal times and temperatures, your tonal range is long and beautiful. I would peg this as having a medium to low contrast close to what I could get from Kodak Panatomic-X. But even under less-than-ideal conditions, you can get exceptional results, as shown by my shots with high-contrast and low-contrast results that all look good.
Scanning
Sadly the original prints have long been sent to long-term storage, so I couldn't pull any out to try the scanning again. After thinking about it, I recall scanning these prints far more straightforward than what I found with Fuji Type-100 films. They all scanned clean with no real concerns introduced during the digitisation process. The biggest thing is when you are editing, I always leave a border around my images so that folks know I was shooting pack film. This choice went a problem because it introduced an outlier in my levels. Of course, the best thing you can do is mask out the actual image and then adjust within that mask. Setting the levels is easy, but I recommend leaving the colour adjustments alone; the brown-scale image makes colour adjustment difficult, mainly if you use automatic functions. I also recommend using the manual controls for adjusting your levels as well.
Overall Impression
Polaroid Chocolate is a true gem of film stock, and I'm sad that nothing has ever come close. Chocolate is the film stock if you're into a more sepia tone to your instant images. Avoid Sepia; I shot that only once and was left disappointed (, of course, I also shot this under less-than-ideal conditions). But Chocolate certainly tickled my fancy, and I shot several packs of the stuff before I could no longer get it through Impossible. Today you can still pick up the film through various sources. However, it is limited in availability. And expect to pay way more for what you would pay for even Fujifilm pack film; most films are going for nearly 200$ (CAD), and most are starting to get over 20 years old. And Polaroid films don't expire well, and when you don't even know how it has been stored. Spending that money, you want all ten shots to work, not a percentage under 80%. If you have any of this sitting in a freezer, use it now, don't wait for the right moment (because it may never come). Use it and be amazed. So I will look back on the film fondly and the memories I made through using it in two special locations, the former Gravenhurst Sanitarium and a Film Photography Retreat.
Further Reading
Don't just take my word on Chocolate; you can check out the reviews by other awesome camera reviewers!
Casual Photophile – A Look Back at One of Polaroid's Last and Best Films – Chocolate 100