When it comes to colour films, I'm picky about which ones I shoot. I'm the first to admit I wouldn't say I like working with colour film as I have a digital camera that gives me consistent colour images with little work on my part. The biggest problem is getting the colours right from my scans as I don't use specialised software like Negative Lab Pro. When it comes to medium format, I am reliant on my Epson V700; the Nikon Coolscan V ED makes life easier. So it comes as no surprise that when I learned of the discontinuation of Fujicolor Pro 400H that upon looking back in my collection, I found two rolls of the earlier version of Pro 400H known as Fuji NPH. I've included those at the end of this review. Other than that, most of my colour work with 'professional' film stocks has been with Kodak. I quickly resigned myself to the fact that I would never get to shoot the film as in the wake of its discontinuation announcement, the prices went up everywhere, and suddenly frozen stock starting popping out of the woodwork at insane prices. Thankfully a chance visit to Burlington Camera saw a few pro packs of Pro 400H in 120 sitting in their film fridge. And yes, it cost 17$ per roll, but that's what you pay for Portra 400 in 120, so it seemed fair, and I grabbed a pair of rolls.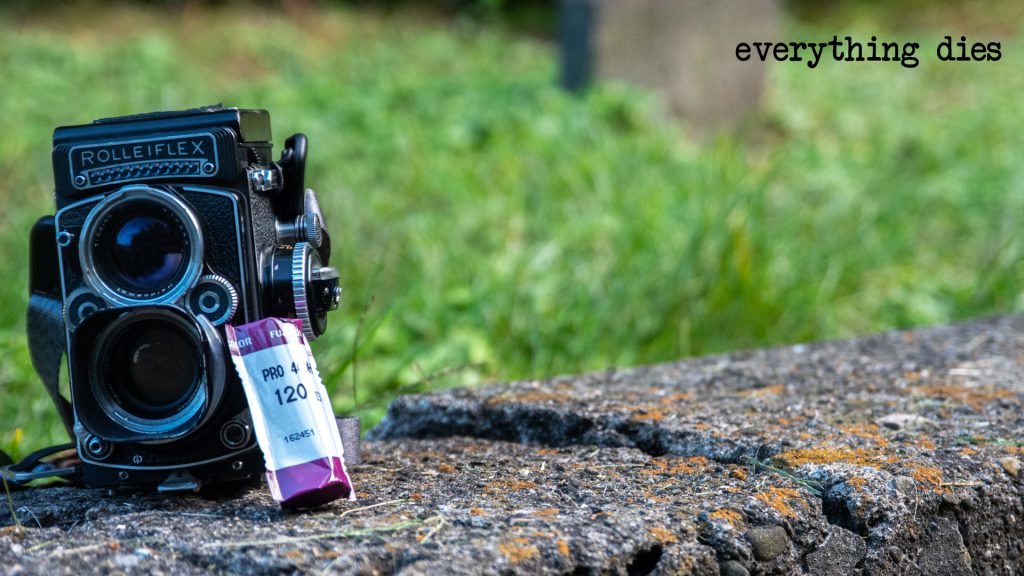 Film Specs
Type: Colour Negative Film (C-41)
Film Base: Triacetate
Film Speed: ASA-400, Latitude: 100-1600
Formats Available: 35mm & Medium Format (120/220).
Discontinued: 2021
Colour Rendition
Okay, I can see why people like this film! The colour reproduction is stunning; while I would not say a perfect representation of natural colour, there is a softness, almost pastel nature. It's almost as if the world is being seen through the lens of an art film. I can also see why people enjoy this film for portrait work; it certainly will work with almost any skin tone out there without making things look unnatural. Across the board, the colours pop without slapping you in the face; greens, reds, and blue are all vibrant but with a touch of softness. You also have excellent separation of tones and colours, with your blacks dark and whites bright.
Image Quality
The image quality you get from the film is superb. With the colour and tonal separation, you already have a decent level of sharpness; this is only added to the edge sharpness present in the film. While I can only speak to the medium format version of the film, the grain is about on par with what I would expect from a 400-speed film. Enough to help with that edge sharpness but not enough to be distracting from the image itself. You have good contrast, not too firm, weak, an excellent middle ground to help with that softer colour palette in Pro 400H. And this is present in both indoor and outdoor lighting. Having seen what the older version of the film can do, there are only slight differences between them.
Scanning
The one thing that stood out to me with Pro 400H is how easily it scans. Oddly enough, I've only ever shot and scanned the stock in medium format using the Epson Scan Software and a flatbed scanner (V500 and V700). However, I'm sure that a dedicated film scanner like a Coolscan V or a digital camera setup Pro 400H will scan. Like any negative film, you will have to make some adjustments in post-processing. Given the soft colour palette, I had some doubts about the ease at which Epson Scan would balance them out, so I left that part to Adobe Photoshop. The automatic adjustment did, in many cases, overcompensate, giving some images a green colour cast; I managed to fix those up manually by giving a bit more back to the magenta side for the highlights and shadows. There was very little in the way of colour noise and aberration added to the digitisation process. Again, nothing couldn't be handled by a quick noise reduction. And very little post-sharpening was needed to give the best results. Pro 400H is undoubtedly one of the more straightforward colour films I've had to scan; it behaves more like a consumer film in the scanner than a professional film.
Overall Impression
It's hard to give an impression on a film stock that you've shot so little of and probably will shoot little in the future since it's no longer being produced. But I would not count it out yet, as Fujifilm has brought back films in the past. Although any future version of Pro 400H may appear slightly different, the reason for the cancellation is the lack of a chemical needed to create that fourth colour layer that made Pro 400H stand out. And there are plenty of fans of the film stock out there who enjoy shooting the film more than I do, so it would be better to let the fans enjoy their last rolls than trying to chase down another roll in 35mm. Did I like the results I got? Yes, I did; if I happened across a reasonably priced roll in 35mm, I probably would buy it to test? While it's always a sad day when another film gets cancelled, we have to realise that film, and the film photography community doesn't have the same buying power as it once did, and in the end, everything dies.
Further Reading
Don't only take my word on Fujicolor Pro 400H, check out these other reviews on this film stock!
Casual Photophile – Fujifilm Fujicolor Pro 400H Film Profile
The Darkroom – Fuji Pro 400H Film Review
Emulsive – Fujifilm Pro 400H: The Best Film I'll Never Shoot Again
Shoot It With Film – How to Shoot Fuji Pro 400H
Filter Grade – Fujifilm PRO 400H Film Stock Review
Blue Moon Camera – Film Fridays: Fuji Pro 400H
Rambling Polymath – Film Review: Fuji Pro 400H
James Madison Photography – Review: Fujifilm Pro 400H