You can never have too many D-76/ID-11 clones. And while there are tonnes already on the market, plus the capacity to mix one up yourself at home. I want to introduce the latest clone on the market, Flic Film Classic MQ. Flic Film is a new Canadian film lab based in Alberta, Canada. While they focus on re-rolling motion picture film stock, they have a healthy film chemistry group. In addition to their brilliant Black/White & Green, among their offerings is a D-76 clone, Classic MQ (Metol/Hydroquinone). But it is available in the smaller 1L volume rather than mixing up a whole gallon of stock solution.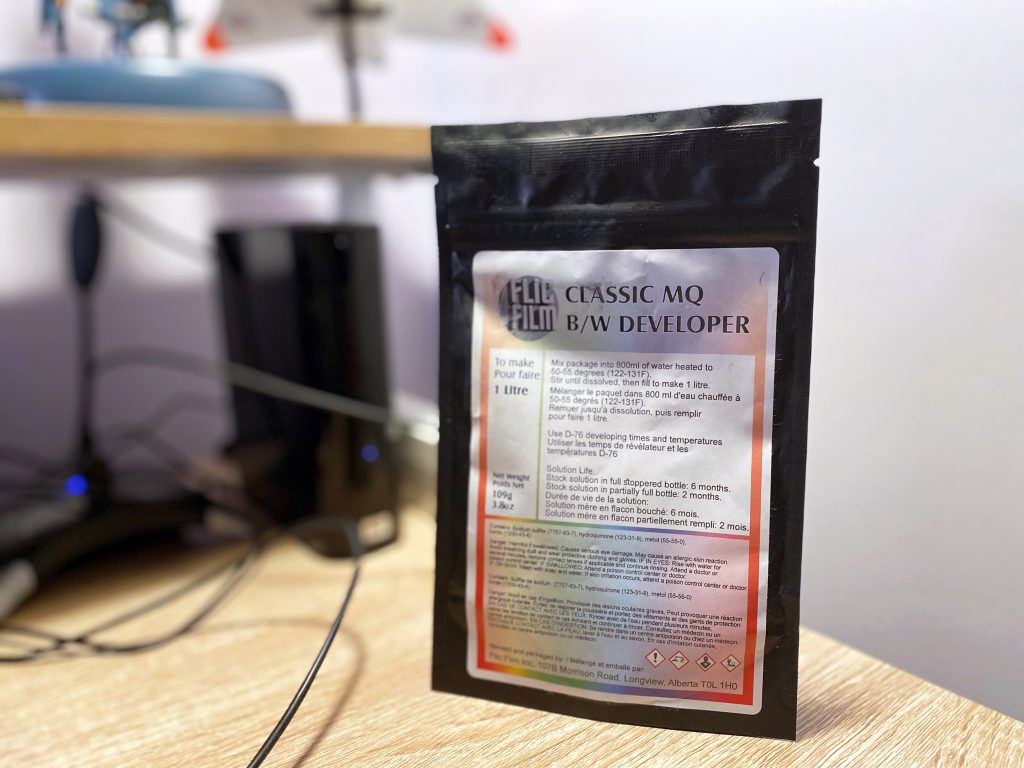 Technical Details
Manufacture: Flic Film
Name: Classic MQ
Primary Developer: Metol & Hydroquinone
Type: Reusable/One-Shot
Mix From: Powder
Handling
If you can mix any developer from a single pouch of powder, Classic MQ is not beyond your reach. The developer comes in a single pouch of pre-mixed powder combined with water to make a litre of stock solution. The temperature is pretty hot to mix the stuff up, and I recommend going with the upper range of temperatures. The reason is that the power will mix better; if you're doing the mixing by hand, it will take about 6-8 minutes to thoroughly mix, shorter if you have access to a magnetic stirrer. Once mixed, the stock solution has a shelf life of six months in a full 1L bottle. The stock solution can develop ten rolls of film or equivariant. You can reuse the solution in stock form for development, but it is a one-shot developer once diluted down to either 1+1 or 1+2. Flic Film has published no official times with Classic MQ; instead, use the published times for Kodak D-76 or Ilford ID-11 for times and dilutions. If these developers can do what they say, so can Classic MQ. I did all the rolls in the 1+1 dilution for this review to work through the bottle quickly.
Applications
Like any D-76 clone, Classic MQ offers an alternative to Kodak chemistry, especially if you're Canadian support for a Canadian company. Classic MQ offers up that baseline developer that works well with all the black & white films on the market, working well on both standard cubic grained film and modern T and Delta grained films. And because it comes in only 1-litre volumes, it is ideal for those who develop at home but have limited space available to them. And for those working on a septic system, Classic MQ, designed for rural developers, has lower toxicity and is safe for septic systems. And like D-76 and ID-11, in a pinch, Classic MQ can be used as a paper developer both for darkroom printing and paper negatives. A film like Washi A would be a good idea to use Classic MQ to develop.
Qualities
Being the same stuff as D-76 and ID-11, Classic MQ offers up that same baseline developer. Classic MQ lets the film shine, adding or subtracting anything from itself. You get that full speed out of your emulsion without any trouble. D-76 offers excellent detail at stock dilution, both in the highlights and especially the shadows. Surprisingly the developer does an excellent job taming grain at stock dilution. There's little in the way of adding or reducing contrast, for normal behaviour develop in a stock dilution. If you want to increase the sharpness, with a slight uptick in grain visibility, dilute down to 1+1 as I did, and it certainly helped get a bit more sharpness out of my HP5+ and Double-X without and decrease in contrast.
Lowdown
Like any other clone developer, Classic MQ offers up another chance to get your hands on a solid developer if you're starting your journey in home development. And these days, with supply lines long and a bit of quality issue coming out of Sino Chemicals right now, Classic MQ offers up a classic D-76/ID-11 experience without any trouble. The developer's cost is right in line with what you would pay for D-76 or ID-11. While you cannot purchase the stock directly from Flic Film, they have many retail partners here in Canada and the United States and is a powder it is much easier to ship without any significant restrictions. And yes, it is easy to mix up your D-76 or similar developer yourself; sometimes, it's nice to support a Canadian business and simplify your life.
Recommended Reading
Don't just take my word on Classic MQ. Check out these other blogs on the subject!
No Other Reviews Found