It seems that Fuji enjoyed cutting off film stocks that had become rather popular among photographers, and most are legendary and much-loved colour-negative film stocks. Recently we saw the end of the Fujifilm Pro 400H along with Superia 200 and Superia C200. But one of the earliest discontinuations I remember that caused ripples through the community is Fujifilm Superia Reala 100, or Reala (the older version of this film). I've only tried this film in 120 formats after being gifted several rolls from my good friend Andrew Hiltz and picked up a few more along the way. I always thought it was a 120 only film stock, but it was available in 135. I will also note that Reala 100 was the first Fujicolor film to use the 4th Color Layer technology that removed the green cast caused by fluorescent lights.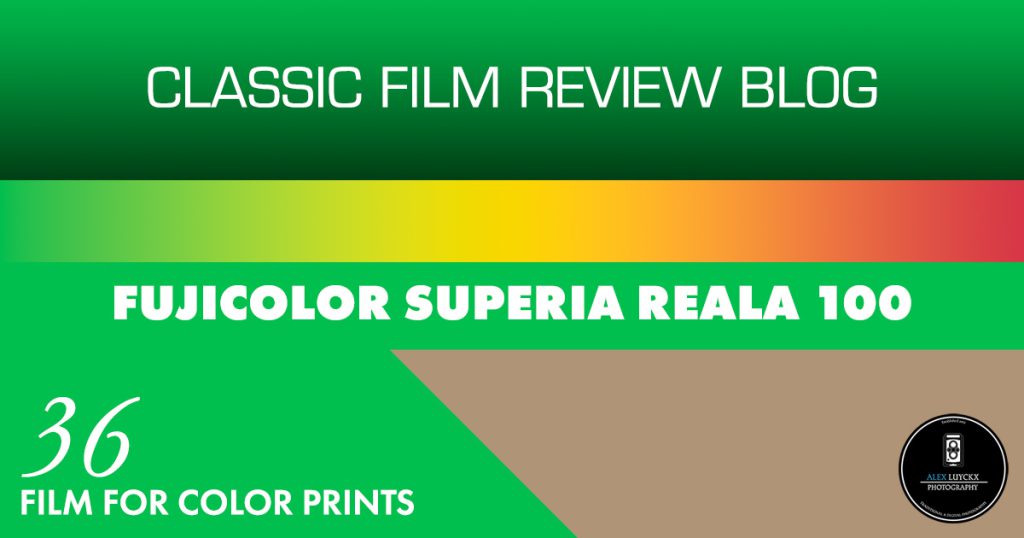 Film Specs
Type: Colour Negative Film (C-41)
Film Base: Acetate
Film Speed: ASA-100, Latitude +/- 1-Stop
Formats Available: 135 (35mm), Medium (120) Format
Discontinued: 2012 (120), 2013 (135)
Colour Rendition
Fujifilm hit the nail on the head when naming this film Reala, as you get some fantastic realistic colour replication and rendition. Nothing is too saturated or overly contrasty. You instead get a lovely soft colour palette that looks and feels similar to professional-level colour films from Fuji, namely Pro 400H. And it performs well with an almost natural-looking colour even under artificial lights, thanks to that 4th colour layer. The film best renders colours like greens and reds. And while not overly saturated, it certainly has a vibrancy under bright conditions which is still there but to a lesser extent under sunny, overcast. Even in subdued light, that pop of colour cannot be ignored. And while it handles nature and architecture well, it also does a superb job with skin tones.
Image Quality
While some films handle colour replication well without decent image quality, Reala 100 is the whole package, as the image quality is top-notch. Both sharp and fine-grained, there is little in the way of visible grain with this film, but you retain excellent edge sharpness. Add to that the superb tonality and contrast of the film without being too contrasty and punching up that colour replication. Everything is smooth. Reala also carries excellent latitude, and you can keep both highlight and shadow detail without doing too much. You can easily over or under-expose this film and either lower the contrast to get a more pastel look or punch up that contrast to boost your saturation. And all while still developing the film normally.
Scanning
It has been a long time since I last scanned Reala 100, and of the rolls, I shot, I did only scan a handful of them. Most of these were scanned by the lab and then uploaded with minimal adjustment. And that alone speaks to how well this film handles being scanned. So I could dig back in my archives and find some of the original negatives to give it another shot with my current scanning setup, the Epson V700 and Silverfast 9 SE. While most colour films can be fickle when scanned, Reala scans well and only takes a light touch to get things right. There is a bit of a green colour cast to the initial scans, but this is easily adjusted with automatic settings in Photoshop. And the best part is that Photoshop doesn't overcompensate, which can sometimes happen. I'm sure the older the film gets, the more the green will come into play, but it should not be hard to compensate with a bit of manual correction. These are clean negatives, and the V700 handles them with ease. There's little in the way of colour noise that is added to the scans.
Overall Impression
While I'm not one to shoot colour film these days, I would honestly make an exception for Reala 100; being a slower film, if stored well even a decade since discontinuation Reala 100 would stand the test of time with only a minimum of the ill-effect of expired film. I was lucky enough to get some of this film fresh while it was still being made. And while my choices of cameras might be a bit iffy to some people, even the Kyiv 88CM and Lubitel 2 turned out fantastic quality images with this classic Fuji colour negative film stock. It is well worth picking up rolls if you like the slower colour negative films but don't want to drop cash on Ektar 100 or Portra 160, but even those are different beasts from Reala. I would go so far as to say there is no film stock available today that can replicate the look of Reala. But if you're one of the lucky folks to shoot with a Fuji X100V, there is a built-in film simulation that gets it pretty much right!
Further Reading
Don't just take my word on Reala 100; you can check out the reviews by other awesome camera reviewers!
50mmf2 – Fujifilm Superia Reala 100 Film Review
Steve Huff Photo – Some Fuji Reala Love