If there is a single classic film emulsion that kept Polaroid Pack Film cameras going well after the demise of the original Polaroid company, that film is FP-100c. And while the film is no longer available today, it is the film stock that made me turn my head and start looking for Type-100 Polaroid cameras ever since receiving a ColorPack-II from the excellent Michael Raso and the Film Photography Project. FP-100c is the same film that continued the tradition of Polaroid Type-100 pack film that you shoot, then peel apart and shake it (like a Polaroid Picture) to help dry the chemistry. And to have some added fun, you could bleach the negative portion of the film and scan that for something a little different. And while FP-100c has been discontinued for short of a decade now, and the cost of surviving packs has skyrocketed, it is still worth writing a piece to remember this last bastion of pack films.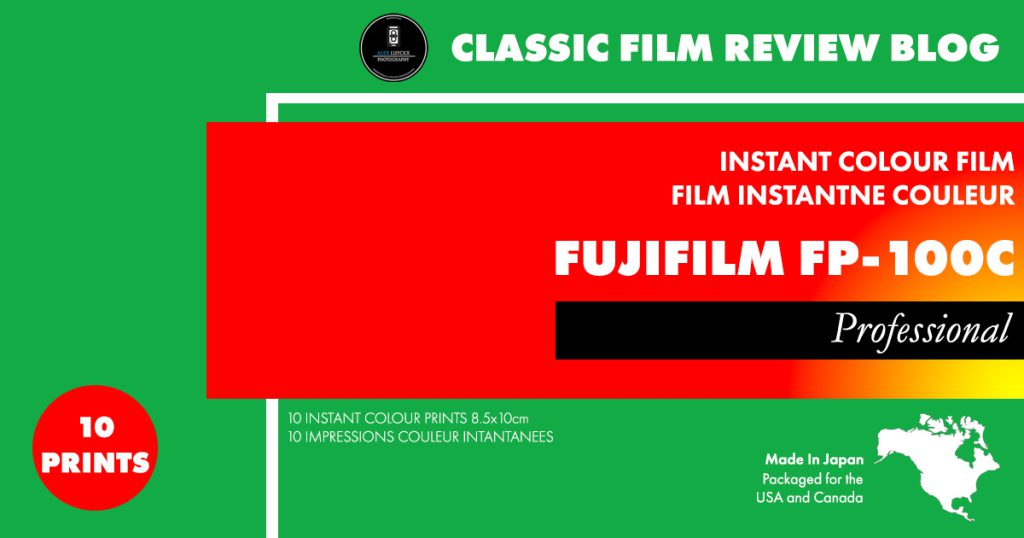 Film Specs
Type: Instant Colour Print Film
Film Base: Acetate
Film Speed: ASA-100
Formats Available: Polaroid Type-100
Discontinued: 2016
Colour Rendition
The one thing that Fuji can usually get right is colour replication, and FP-100c certainly makes colours look good! That word is natural if I could use a single word to describe the colours with FP-100c. It all depends heavily on the lighting conditions you're photographing with, but the colours will replicate on the prints accurately. Using this film under grey, indoor, open shade and bright sunlight, the film does an excellent job in every condition. The film is natively balanced for daylight temperatures but does well under artificial and overcast light without too much trouble. In daylight, things are clean, with neutral colours, but things look good. Under cloudy, you get the same neutral colours but with a bit more lean towards the reds. Under artificial light, there is a clear green cast to the images. The one colour FP-100c loves the most is red, which is always bright and vibrant under any condition. Plus, it does an excellent job with all skin tones, not just Caucasian.
Image Quality
If there's one thing that is hard to nail down in the case of FP-100c is the image quality. And the reason is that we're dealing with both a film and a print. FP-100c uses the same technology used by other Polaroid Type-100 films that expose a negative, then uses a chemical pod to develop the film and make a positive print. However, the image quality of this film is excellent. A lot does depend on the camera you're using to expose the film and the lens on the camera. But no matter what camera you use to expose the film, you'll get an excellent image. I've used guess-focus cameras with plastic lenses, glass-lensed rangefinders, and a full-out manual exposure rangefinder. And no matter what, the photos turned out. The prints are 8.5x10cm, including the border around the image. You get a sharper image with a glass-lensed camera, but even behind plastic lenses, the images are still excellent but slightly softer around the edges. But the photos have enough grain to maintain edge sharpness and exceptional tonality without being too contrasty to punch up the colours. If you want something a bit more contrasty and a bit of grain, you should bleach your negatives and then scan those. And yes, with FP-100c, you can defiantly do that.
Scanning
As I've mentioned, you have two ways to scan your FP-100c; you can either scan the print or the negative. I never saved, preserved or scanned the film's negatives, so I'll expand upon that from notes I've taken from other photographers. But scanning the positive prints was a breeze. The trouble always came with my decision to include the border. If you're scanning a Type-100, you want to have that border because everyone knows you're shooting instant film. The Epson V700 and Epson Scan software handled the film well, and the scans came close to what I saw on the physical print. I always, when editing, would create a second layer of the image before adjusting for levels and colours. And even then, it only took a light touch to balance those levels set and colours. And the best part is that there were no colour biases during the scanning process, and only a bit of sharpening is needed. Things get a little more interesting when scanning negatives. You do need to take a bit more time to prepare the negatives. It would be best to clean off the negatives to get the rest of the development/print chemistry from them. Then bleach them, ensuring the emulsion is face down on the glass surface. Use a sponge or brush to clear off the backing towards the bottom. Then carefully rinse again. This is a basic overview, but check out this site that goes into greater detail.
Overall Impression
I should also point out that there are two versions of FP-100c: the Type-100 stock and a 4×5 version of the film. It is essential to differentiate between these two because if you get the 4×5 version, you can only shoot these (with a special film back) in large format cameras. The Type-100 version can go in classic Polaroid cameras, but also with a special film back in large format cameras or cameras like the Polaroid 600SE or Mamiyia Universal. Plus, a tonne of other cameras with an appropriate film back. Regarding the instant film, two factors can affect its usefulness, age and storage because the chemistry can and does dry out over time or through poor storage. The sad part is that FP-100c fetches high prices on the used market; a quick search shows that some packs are going for well over 100$, that's ten dollars a shot. And there is always the possibility of failure. This happened with the last pack I shot; I got halfway in, and everything fell apart. And while there have been some efforts to get Type-100 back up and running with new production film, the cost and technology behind it have that same high price tag for a niche product. If you want to get your hands on FP-100c, ask yourself a few questions before dropping the coin on a film pack. How old is the film, and how has it been stored are the first two. The third question is how reliable is the camera you will use with the film. A camera like the Polaroid 600SE/Mamiya Universal is a good choice as you can handle manual exposure. With the cost of this film today, you're going to want a good pack and a good camera to get the full money's worth out of a ten-dollar image.
Further Reading
Don't just take my word on FP-100c; you can check out the reviews by other excellent camera reviewers!
Filter Grade – Fujifilm FP-100C Film Stock Review