Regarding film developers, I tend to stray from those designed for one specific film stock. It's not that I don't want to try them; I have a dislike of closed image systems. A good developer should be able to achieve a specific result with various films. And for a while, I thought that Foma Retro Special is explicitly designed for Foma Retropan 320 Soft, and while this is the ideal film for the developer, it can do so much more for the entire line of Foma films. After finding a source for the developer, I purchased a pack since I am finally running a review on Retropan 320 at the end of this year. But that isn't the only film you can run through Retro Special, and if you're a fan of Foma films, then give this developer another look.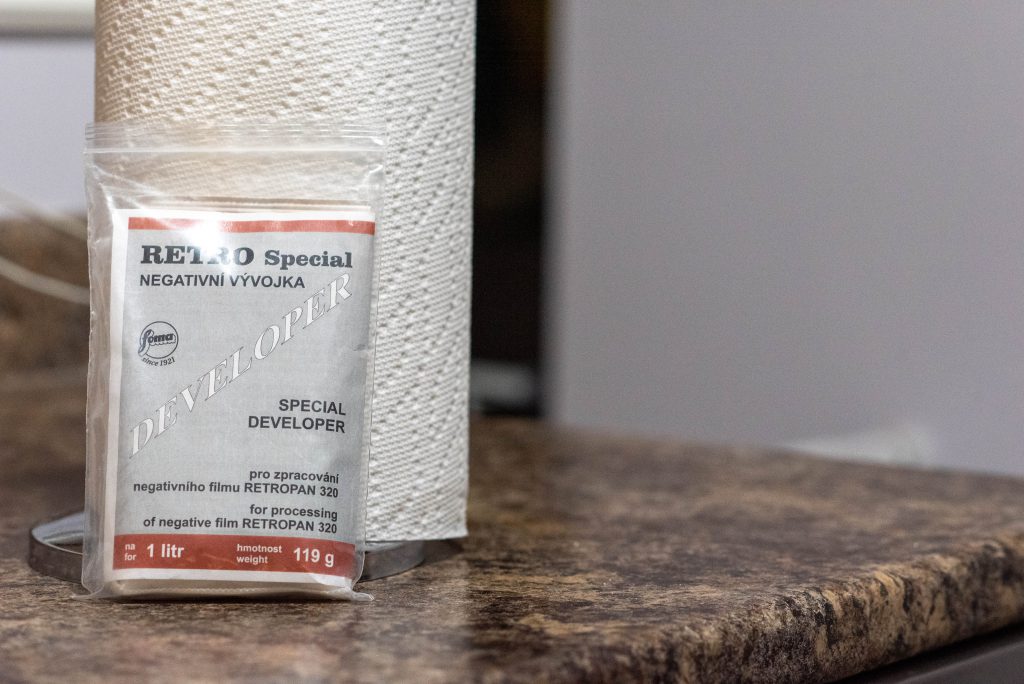 Technical Details
Manufacturer: Foma
Name: Retro Special Developer
Primary Developer: Metol & Hydroquinone
Type: Reusable
Mix From: Powder
Handling
As a powder-based developer, you can easily mix this with water. I recommend using a magnetic stirrer; it makes the whole process go a lot smoother, and it takes a bit of time to ensure that the entire contents are appropriately mixed into the solution. Retro Special comes in two envelopes, a small and a big one. And as strange as that sounds, that is precisely how they are labelled. Fill your mixing container with 700mL of water at 40C, then add the small, which turns the solution deep purple. Wait until mixed, then add the large pouch, up the water to 1L and continue until all the powder is dissolved; it will turn a paler purple. The powder has a long shelf life; the mixed stock solution in a properly sealed bottle in a cool, dry space will last six months. And when it comes to economy Retro Special is strong, with the ability to develop 1.3 m2 of film, which equates to 25 sheets of 8×10, 50 sheets of 5×7 and 100 sheets of 4×5. You can run 25 rolls of 35mm (36 exp.) or 120 films in the roll film category. So if you're doing a lot of work with Retropan or Foma films, this will handle a large volume. You can only use Retro Special in stock dilution; no times are available for any one-shot dilution, making it a developer that you have to fully commit to or share with other home developers who use Foma films. Another thing to mention is that some development times are less than five minutes, with Fomapan 100 clocking in at four minutes. Yes, I know the rule of thumb is that it will cause uneven development, but I have yet to encounter that, having run two rolls of Fomapan 100 (Arista EDU.Ultra 100) using a B's Processor, and I am rather pleased with my results. And yes, you can use this developer in a Jobo or B's Processor to achieve good results. It might be best to use a rotating base when running the shorter times to get even development. I ran the Fomapan 100 using the pulsed setting on the B's Processor.
Applications
Putting my finger on a good application for Retro Special is problematic because it says right on the box that it is designed specifically for the matching Foma Retropan 320 Soft. And while this is the ideal pairing and the 'secret sauce' for the film stock, I would allow myself to keep the developer around for that one film. It also does wonders for the other two hard-to-nail-down films from Foma, 200 and 400. Retro Special boosts the contrast in these films and smooths out the rougher grain structure. It is also a good choice if you are doing high-volume photography with these three films, and while it does a fantastic job with roll films, it would be even better to deal with sheets. Especially Fomapan 400 and Retropan 320. As a high-contrast developer, it can boost low-contrast or medium-contrast films (like Fomapan 100) in low-contrast settings and even more so in high-contrast environments. Retro Special can also be used in push development, mainly with Retropan 320, to compensate for under-exposure when shooting the film at a higher EI than the listed box speed.
Qualities
Having never worked with Retro Special before, I had yet to learn what to expect. But the one thing I found pleasing about the developer right from the start is that it is a high-contrast developer. Having shot a couple of rolls before Retropan 320, I found that it was a low-contrast film, so having a dedicated developer designed to boost contrast is necessary. And Retro Special certainly does this perfectly. You can also expect a little reduction in visible grain, not much, but enough to help tame the more gritty nature of Foma films. You will, however, see a softening of edge sharpness, but with the increase in contrast and compression of the tonal range, you have a moderately sharp image. It also does an excellent job of taming similar characteristics found with Fomapan 400 and 200. But on Fomapan 100, you get a deep rich, chrome-like contrast that makes things look incredible. The best thing to do is watch the lighting conditions; in high-contrast light, you will see a stronger boost in contrast when shooting a medium-contrast film, but in low-contrast light, it will pump things up to a more pleasing look.
Lowdown
My biggest issue with Retro Special is that beyond Foma films, there are no other listed times. And that's a shame because, like Kodak D-19, Retro Special might help boost some low-contrast films and enhance the contrast on other medium-contrast films. There is a possibility of figuring out times with a bit of testing, but that is a long process. In contrast, I don't see myself using Retro Special soon, mainly because I don't shoot a lot of Retropan 320 and already have plenty of options to tame Fomapan 400. Another issue is getting my hands on the stuff in North America. Right now, I only know one online source for the Canadian market. But if you are struggling to work with Retropan 320 or Fomapan 400, try Retro Special and see if you like its results.
Recommended Reading
Don't just take my word on Foma Retro Special check out these other blogs on the subject!
No Specific Reviews on Foma Retro Special Developer