When a developer and a film stock are so intertwined or one was made for the other it makes you think of a closed image system. I have plenty of experience working with those, not surprisingly also from Adox, but also Kodak Techincal Pan comes to mind. While the film and the developer are specifically designed for each other, both can be used in other developers and on other films. However, don't think of Adox HR-DEV as a one or two-trick pony as despite the name it is a wonderful developer that does more than just develop Adox HR-50. While the bottle only lists two films, the massive dev chart lists thirty-seven. Of the two listed (HR-50 and Silvermax) I will only be including the roll of HR-50 for this review. I did use a roll of Silvermax with HR-DEV, which you can find in that review. And you will get to read the review of Adox HR-50 next month. But don't kid yourself that this is an economical developer, it isn't, by a long shot. You can only get the developer in a 100mL bottle and the dilutions are the strangest I've seen since Adox Silvermax and Kodak HC-110. But with the cost of the stuff combined with wanting to finally review Adox HR-50, I had to run a review on the developer as well to get at least two posts out of a single bottle without having to buy another whole batch of HR-50 as both are a fairly special product.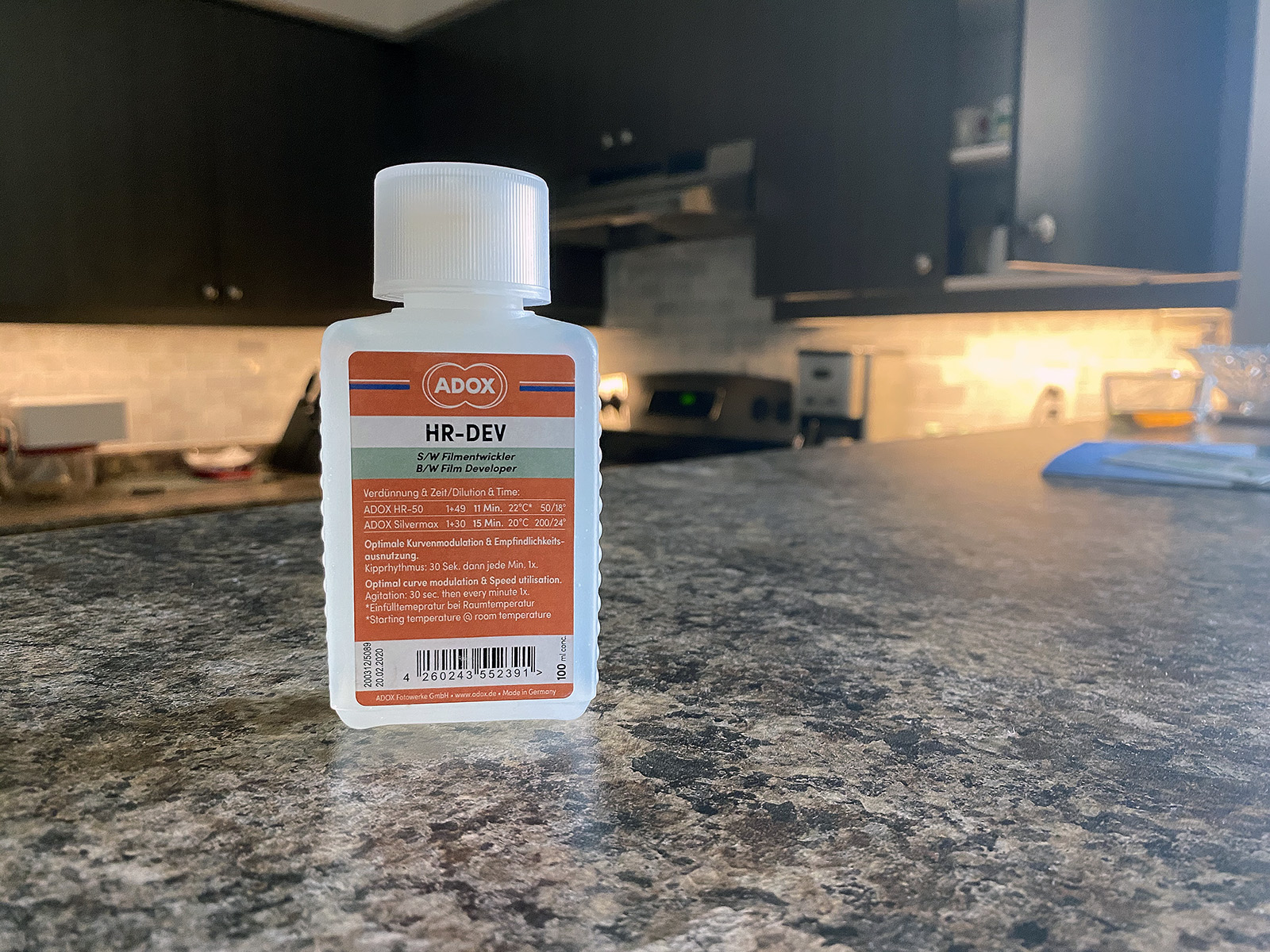 Technical Details
Manufacturer: Adox
Name: HR-DEV
Primary Developer: Hydroquinone
Type: One-Shot
Mix From: Liquid
Handling
Sadly the only bottle size to get of HR-DEV is 100mL and that was just enough to process the five rolls of film I shot for this review. If you're just using the developer for Adox HR-50 film you have enough in one bottle to process at least 20 rolls of film. That is assuming that you mix up 500mL each cycle and process two rolls of film per tank. As I developed several different films at different dilutions I was not able to maximize the bottle. Handling the developer is easy, it pours well and the bottle seals nicely without a gasket. The tiny hole allows you to squeeze the concentrate out in a controlled manner, I never over measured the concentrate. The dilutions are pretty weird, even by my standards, and that's with using HC-110! You also have to note that you should not use standard agitation with the developing cycle, the bottle calls for an initial agitation of thirty seconds and then one agitation every following minute. That also changes from film to film. Check the notes on the Massive Dev chart to see what is recommended and stick with that method. Usually, when it says 1 agitation, I gave two very gentle agitations and got excellent results. Surprisingly HR-DEV has a decent shelf life, thanks to the addition of glycol, with over a year for an unopened bottle. Once you open the bottle, the shelf life does decrease, starting at about six months and lessens as you use the concentrate. I managed to use up the bottle in about a month just to be safe.
Applications
The number one film that will perform the best with Adox HR-DEV is the paired HR-50 film, and the two go together like peanut butter and honey. But don't just limit yourself, although a bottle of 100mL is truly tailored for a large number of HR-50 rolls. Honestly, if you want some of the best results out of your slower films, then HR-DEV will not let you down. I got excellent results from Ilford FP4+, Fomapan 200 (which surprised me), Fuji Acros 100, and Adox Silvermax. If you're looking for no bump in contrast and amazing edge sharpness then HR-DEV will deliver. The downside is that there is a limited number of films that you can process with HR-DEV. As I mentioned in the introduction, only thirty-seven films, not bad, but this isn't your average Adox FX-39 developer. It also doesn't matter the style of grain (traditional or modern) it seems to handle both well. The single question you should ask before picking up that bottle is the inherent grain of the film, is it a fine-grained film naturally?
Qualities
If there is one thing that this developer will deliver is sharpness. Every film I ran through the developer ended up being incredibly sharp. But as we in the film photography world know, there is always a payoff. When it comes to HR-DEV that is you will not get any reduction in the presence of grain. So if you're not scared of grain, then you'll be good with whatever film you run through the developer. Thankfully I used mainly naturally fine-grained films, and even in the case of Fomapan 200, I ended up with decently sharp images without too much added in the way of visible grain. I was not as lucky with Fomapan 400, even with a one-stop pull and shooting on 120, there is a lot of visible grain in the images. HR-DEV has nearly no effect on the film's contrast, so a low contrast film remains low and vice-versa. Another interesting thing is that HR-DEV is all over the place with film speeds, I only had two films where I shot them at box speed (HR-50 and Acros 100). In two cases, both of them with Foma film, it was a pull. And with FP4+ a push. Strange indeed, but in all cases, the images turned out and I was pleased with the results.
Lowdown
To be honest with all of you, I wasn't exactly planning on doing a review on Adox HR-DEV, I saw it as a one-trick pony. Similar to what I found with Rollei RPX-D, yet I'm honestly glad I got my hands on the stuff because HR-DEV is a surprising developer. And it takes a lot for a developer to surprise me these days. Now I also put the stuff through the wringer. And I purposefully picked a couple of film stocks that I have not had the best results with in the past, namely Fomapan 200 and a film stock that isn't exactly well-liked. As a speciality developer don't expect it at every camera store you frequent, you do need to pick it up from specialised stores like Argentix, Freestyle, or B&H. There's also Fotoimpex, which is Adox's retail storefront. And supply lines are tight right now, I was surprised to find HR-DEV and HR-50 in stock in Canada when I purchased it there was a lack of Adox films and chemistry on this side of the pond. But my final say, if you have a need for the sharpest negatives, or a mess of HR-50 to process, HR-DEV will not let you down.
Recommended Reading
Don't just take my word on HR-DEV check out these other blogs on the subject!
Down the Road – Shooting Adox HR-50