When it comes to basic bare-bones developers, you can't get any simpler these days than Metol and Hydroquinone. And there are a lot of these developers out there, my first developer review, Kodak D-76, is one such developer, and there are numerous clones of the developer. Each has its little takes on this foundational developer. So it only makes sense that I review several different options, so today, I will be talking about Ilford ID-11. Often called the British D-76, ID-11, while at its core is the same as D-76, it does have a few things that set it apart from the colonists over in Rochester.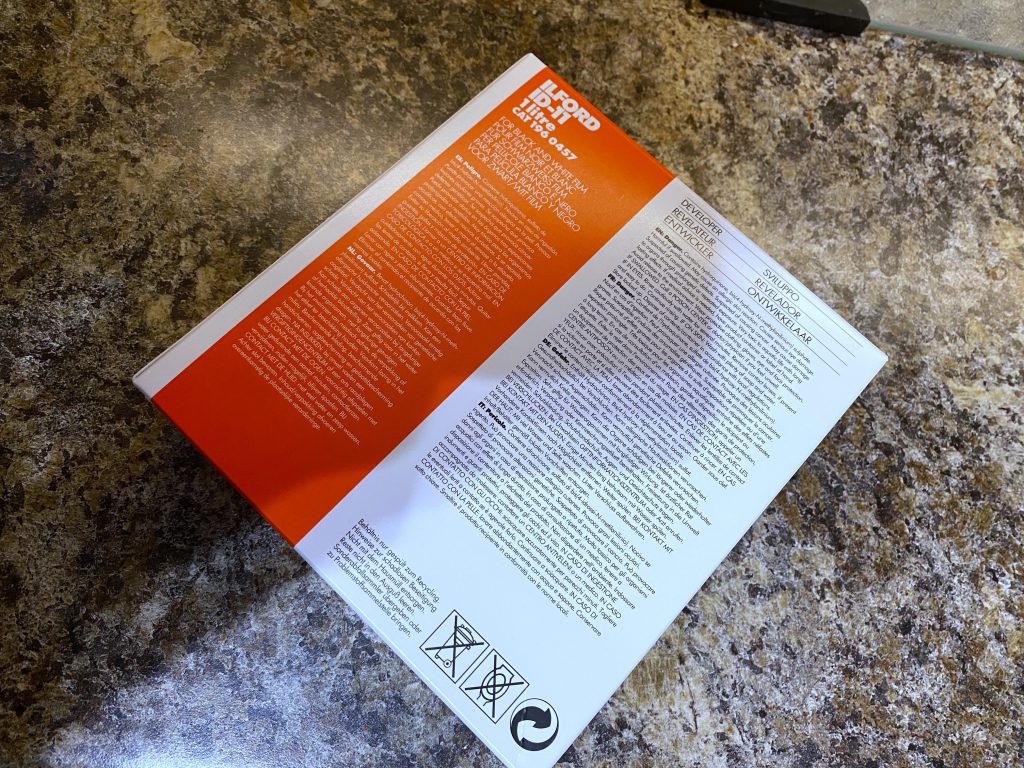 Technical Details
Manufacture: Ilford
Name: ID-11
Primary Developer: Metol & Hydroquinone
Type: Reusable/One-Shot
Mix From: Powder
Handling
One of the first things people will notice about ID-11 is that it comes in various volumes. Unlike D-76, which comes in a single 1-gallon volume, ID-11 comes in 1 litre and 5-litre volumes. That means that you can tailor your size to the amount of film you have to process. The developer comes in 1-litre packages making it easy to store in small spaces. To mix, the developer comes in powder form and dissolves quickly in warm water, first pouch A and then pouch B to make up the stock solution. Once done, you can use the developer at ten rolls per litre, reusing the stock solution. Or you can dilute it 1+1 or 1+2 as a one-shot developer. A full bottle will last six months capped and in a cool dark place.
Applications
If you're not looking for any unique and want something that will develop your film without too much trouble, then ID-11 is a superb choice for a developer. Especially if you're learning home black & white development, ID-11 is a no-nonsense choice that will get your film developed and show what the film can do without anything special. While you can push and pull develop with ID-11, I would limit yourself to only a single stop, either over or under. But where ID-11 shines is when you're shooting the film stock at the box speed. And it doesn't matter what film you're working with, fast or slow; ID-11 will give you a baseline on the film stock. If you're concerned about a film's grain or contrast, then you can dilute 1+1 for a bit of reduction in both or 1+2 for more. But you will see a bit of quality loss. One other application for ID-11 is as a paper developer; while not dedicated as such, you can use ID-11 for that application in a pinch. And to be honest, I did not encounter a film that didn't do well with development in ID-11. And that's both modern T-Grain (Delta) emulsions and classic emulsions.
Qualities
One of the best parts about ID-11 is that it delivers only development. It will neither add nor subtract any qualities to a film stock providing an excellent baseline for what a film can do. If you have a sharp film, it will remain sharp; if it's a fine-grained film, it will remain fine-grains. Same with contrast, it will neither add nor subtract from a film's inherent contrast. That does change once you start diluting the developer. Once you go to 1+1, you'll see a bit of lowering of a film's contrast and some grain reduction. It is nothing to the same extent as Microphen, but it can work in a pinch. Plus, it does give a bit more of a classic look to a film stock like TMax 100. In the end, you need to balance things out between economy and overall image quality. While some may call ID-11 boring, sometimes you need something boring to get results when they matter most.
Lowdown
Like D-76 or the number of clones out there, ID-11 is an excellent choice for beginners or advanced processors alike. Because it can be reused, it makes it excellent for volume work, and if you can get ten rolls out of a litre of stock solution, it is an economical choice. A one-litre box will cost approximately 9.50$, which comes to 95 cents per developer cycle, which isn't too bad, to be honest. And it is readily available here in Canada through both online and brick and mortar stores and hasn't been affected too much by shortages. Since Ilford is still produced domestically at their factory in England, I have heard of no quality control issues. While it isn't overly toxic, you should not be drinking the stuff and ensure it is properly disposed of when exhausted. While I still have a soft spot for D-76, ID-11 is the perfect analogue for the classic Kodak developer.
Recommended Reading
Don't just take my word on ID-11 check out these other blogs on the subject!
Darkroom User – Ilford ID-11