It's not often that something new hits the market, especially something that comes out of Canada. If you haven't heard of Flic Film, that's okay; I only recently discovered this Canadian film lab out of Alberta in 2021. They mainly focus on selling rebranded motion picture films, the Eastman Vision3 series and Eastman Double-X; they have a chemistry production side. But their chemistry has a twist; they're working on making it more environmentally safe. And that should come as no surprise given they are based out of Alberta with many rural properties and reliance on septic systems. And that is where Black/White & Green (B/W & Green) comes into play; despite the long name, the developer is one of the best mashups for developers; they certainly picked two iconic developers to blend. I'm of course talking about Kodak Xtol and old school Kodak HC-110.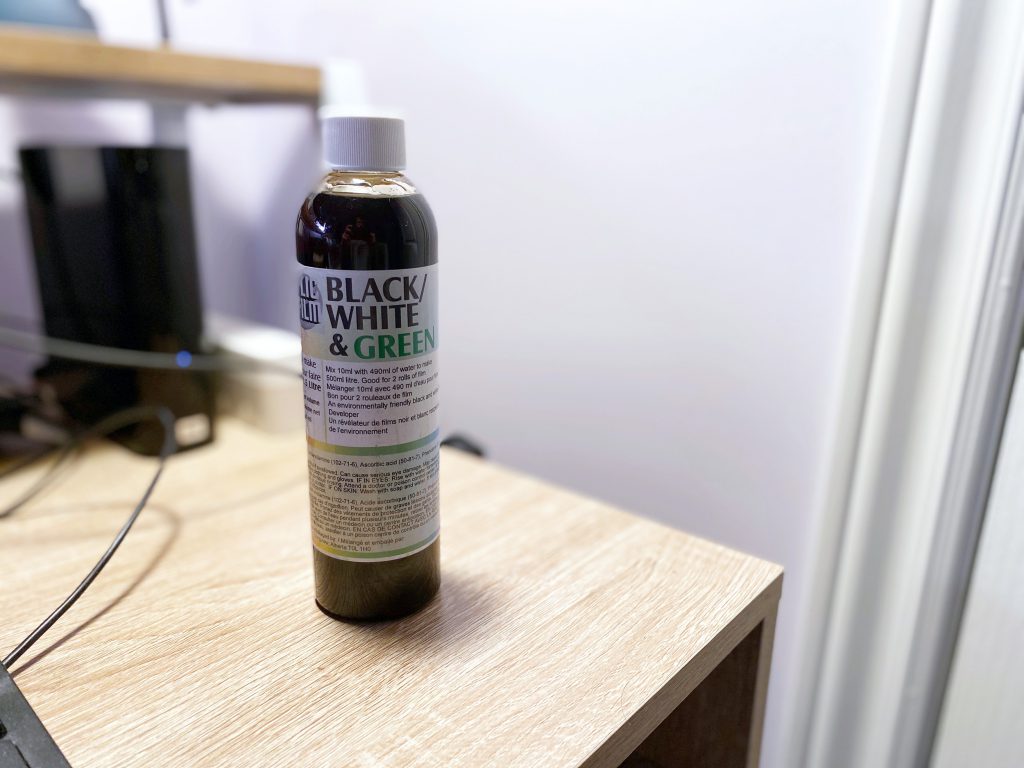 Technical Details
Manufacture: Flic Film
Name: Black/White & Green
Primary Developer: Ascorbic Acid & Phenidone
Type: One-Shot
Mix From: Liquid
Handling
If you've worked with the old-school formulation for Kodak HC-110, then you'll be well prepared for working with B/W & Green; it comes in a small bottle of a thick syrupy liquid that is a little hard to handle if you're not used to this type of developer. You will want to use either a syringe or a small cylinder to measure the concentrate and add it to your water for mixing to working strength. I work with a small graduated cylinder and find that after I pour (more like coax) out the majority of the concentrate, I will run a couple of full cylinders of water through it to catch the last dredges. Then top up my main graduated cylinder, and stir it. The stirring is essential as it does take a bit to fully incorporate the concentrate into the water to make up the working solution. And while most developers of this type have multiple dilutions, B/W & Green has only one, 1+49. That means there's no guesswork; mix 10 mL of concentrate with 490 mL of water, and you're good! And while being a new developer, Flic Film did extensive testing and provides a long list of films and developing times, for Kodak, Ilford, Foma, Rollei and more. Most times, their testing is in line with Kodak D-76 1+2 times. The trouble is that those are long developing times. Most are 10+ minutes, with only a few options under 10 minutes. As for keeping, it seems that B/W & Green has the same staying power as old-school HC-110. And the best is that it is safe for all municipal and septic sewage systems. But I do not recommend drinking the stuff; while it won't kill you, you must go to the hospital.
Applications
The number one application for B/W & Green is for those who want to process at home but feel they cannot work due to their sewage system. If you're in a rural area and rely on a septic tank, B/W & Green is undoubtedly a strong option, as it is safe for your septic and doesn't have a significant environmental impact. The one thing I did notice about B/W & Green is that it certainly lives up to the reputation of being liquid Xtol, so this is an excellent choice for films that need a bit more work on taming the grain while helping to maintain sharpness. While I can't say I've made a direct comparison between Kodak Xtol and Black/White & Green, I can certainly see the similarities in how it handles film stocks. Given this, I would say that this developer is a good choice for both push and pull development to help compensate for any over and under-exposure. I found that it handled pull development with Fomapan 400 and even does an excellent film stock when shooting at box speed. I can also see this developer working well with Fomapan 200. As for the films I shot for this review, B/W & Green worked well on each one, Tri-X, Ortho+, Double-X, and Delta 400.
Qualities
B/W & Green does live up to its name as liquid Xtol; the results from the developer match reasonably close to what I got from both Kodak Xtol and Adox XT-3 when working with the stock dilution. It is a neutral developer, doing little to adjust any inherent contrast in the film stock being developed; that said, with any push or pull development because of over and under-exposure, you will have an excellent middling effect on the contrast. While it won't add or reduce, it will help smooth out that contrast. And that does help with the sharpness of the film as you will have excellent tonal separation and representation of greys. When it comes to grain, it certainly helps reduce any overly grainy film stock, not completely, mind you, but neither did Xtol. I saw some grain reduction with Fomapan 400, especially when I pulled the development, it did even things out with Tri-X, and if you have a fine-grained film, you will see even more reduction in grain. But it does so without any real loss in edge sharpness.
Lowdown
Is this a 'new' developer? Probably not. As was pointed out, it bears many similarities to PC-TEA and is probably based on that developer. It is new in the sense of being new to the market. Being a new arrival on the scene, the availability of B/W & Green remains limited, but you can get the stuff readily if you know where to look. There is no way for personal users to buy directly from the company. The most impressive thing is how many camera shops across Canada carry their product: Downtown Camera in Toronto, Studio Argentique in Montreal, and Alberta and British Columbia shops. The average cost is about 21$ for a bottle of 250 mL, which is enough to process 25 rolls of 120 or 50 rolls of 35mm (with two rolls per tank), assuming a 500 mL solution. Will I use this stuff again? It probably has a long shelf life and is fairly economical, plus I support a Canadian business! What's there not to love?
Recommended Reading
Don't just take my word on Black/White & Green. Check out these other blogs on the subject!
No Other Reviews Found