This is not my first time working with SPUR HRX, but it's always been a developer that I've wanted to go back to revisit with a few more different film options. I first learned about HRX through a former co-host of Classic Camera Revival, and the developer certainly piqued my interest. SPUR HRX is the latest and far more stable update to HRX-3 (I know it doesn't seem logical to go from HRX-3 to HRX) and stands for High-Resolution X from Speed Photography, Ultra Resolution. HRX offers up an ultra-high resolution, fine grain, and excellent tonality. If that sounds familiar, it should because it sounded like a pyro developer. There's even a Part A and Part B.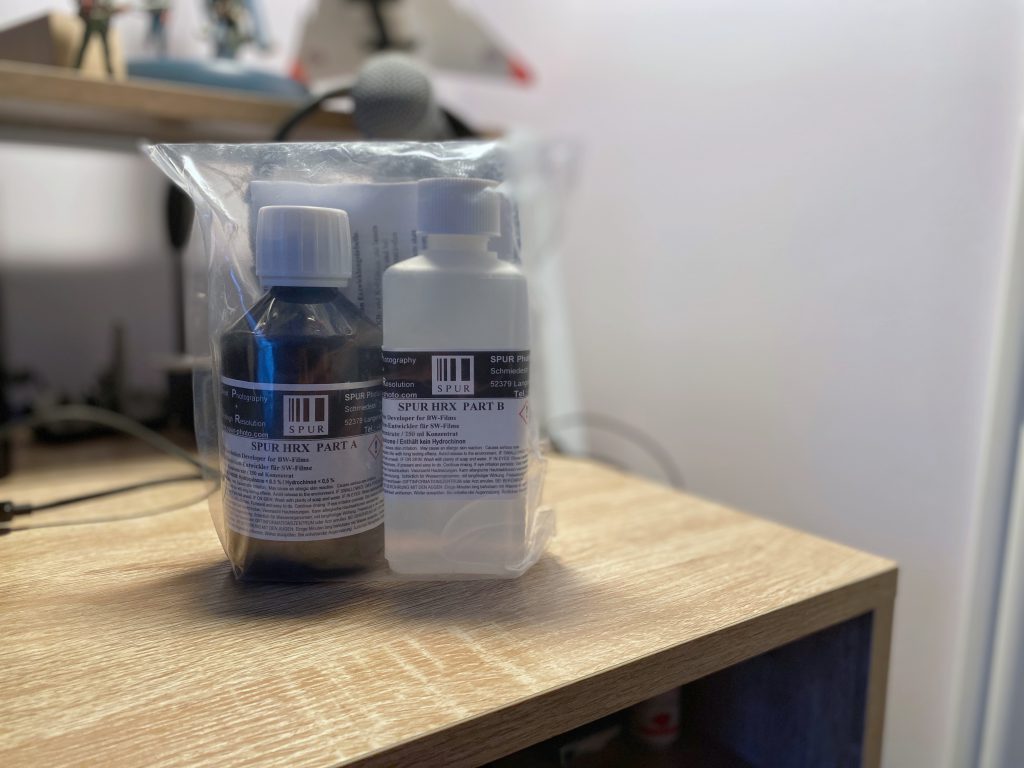 Technical Details
Manufacturer: SPUR Chemicals
Name: HRX
Primary Developer: Hydroquinone
Type: One-Shot
Mix From: Liquid
Handling
If you're used to two-part developers, working with HRX will differ from other two-part developers. Working with both PMK and Pyrocat-HD, you have your dilution mix designated as 1+1+100, which means in a 500mL solution, you have 5mL of Part A and 5mL of Part B, with the rest made up of water. However, if you look at the datasheet for HRX, the dilution is with a single number, 1+20, for example. That means you need equal parts of both A and B to make up the total amount of concentrate. Are you confused yet? Don't worry; I was also when I first used HRX. Working again with that 500mL, a 1+20 mix requires 24mL of concentrate to 476mL of water. To make up that 24mL of concentrate, you need 12mL of part A and 12mL of part B. Most splits are even, but a syringe with .5mL marks can help with not too easy splits. Thankfully if mental math isn't your strong suit, everyone carries a calculator in their pocket these days. You also have to watch HRX for a minimum amount of concentration, as with HC-110. According to the datasheet, you need at least 8mL to 10mL of concentrate to be effective, so watch those numbers as the amounts can get small. One of the best parts of HRX is that it has a long shelf life, thanks to the inclusion of glycol. When stored in a sealed, clean glass bottle, Part A in concentrate form is two and a half years, with a slightly shorter time in the provided plastic bottle. Part B has an almost unlimited shelf-life in the provided plastic bottle. In both cases, it is assumed you are storing them in a cool dark spot.
Applications
Here in Canada, we are cursed with a lot of flat, dull light during the winter months and some high-contrast situations during the summer. Thanks to the curve delivered by HRX, the developer helps bump up the contrast on those dull days, although you will have to watch out for higher contrast conditions. HRX is a compensating developer, so if you practice metering using the Zone System or Precision Metering Method, HRX will help you get the best results, even if you're a little bit off. HRX is also a good developer if you want to maintain tonal separation and edge sharpness while keeping visible grain down. The first film I ever developed in HRX is Ilford FP4+, and it certainly sold me on the developer; it showed off (given the dull lighting conditions of the day) everything that the developer could do! But it also can handle faster films at full box speed like Ilford HP5+; it helped me get to like HP5+ in 35mm a little more. And it even can take on T-Grained films like TMax 400 and TMax 100, even expired film stocks. Because HRX often works best at non-box speed, it handles over-exposure and pulls processing without trouble. I haven't under-exposed and pushed development using HRX, but I'm sure it could easily take the process without too much trouble.
Qualities
If there's one thing that HRX does well, the folks behind the developer have gone to great lengths to take out a lot of the guesswork about optimal film speeds of several film stocks. Of course, you are taking someone else's word on the matter, and you can always run your tests. But honestly, I find that SPUR has done a fabulous job with finding the ideal spot for using HRX. You will see, in some cases, a bit of speed loss in your films, an example being Ilford FP4+, while an ASA-125 film, SPUR, recommends exposing the film at ASA-100. I used FP4+ extensively the last time I worked with HRX, so I left it out of this review. Fomapan 400 saw a full stop of speed loss (but that's okay, I usually expose Fomapan 400 at ASA-200). But when you do use this developer appropriately, the results will be stunning. The published materials on HRX note that the developer delivers wonderful grain, combined with high sharpness, detail contrast, and high resolution. And I can say that the developer does exactly what it says on the tin. Even with fine-grained film, you will see a decrease in visible grain. Faster films known for noticeable grain will see a reduction. In both these cases, it's a balancing act that HRX does well; even with grain reduction, it does not soften the edge details so you can maintain high acutance. You will get higher contrast in most cases, but that does help with tonal separation and reduces flat images, thanks to the ideal graduation curve the developer delivers.
Lowdown
If you're a fan of pyro-based developers, but aren't a fan of their toxicity (and somehow aren't a fan of 510-Pyro), then HRX is a developer that you may want to consider in your workflow. It provides the same qualities pyro developers are known for without staining action. The downside is that HRX can be hard to get here in North America, it has been a while since I've seen it up for sale at my usual place, Argentix.ca, but that could be due to all the trouble in the world right now. And I am having that strange handling with the dual concentrates and math needed to build the working solution. But if you are someone who does a lot of photography during the winter or in mixed lighting, the compensating nature of HRX might make you give it a shot. It delivers everything it says on the tin and takes a lot of experimentation and guesswork, making it worth all the trouble. While I will stick to pyro developers, HRX will be one I keep in the back of my mind if I don't need that staining action.
Recommended Reading
Don't just take my word on SPUR HRX; check out these other blogs on the subject!
No Other Reviews Found!