While these days the old standbys are still excellent choices to develop your film and offer up a great deal of variety there's something to be said about having a universal one-size-fits-all developer. I first discovered this last year with Adox FX-39 II. But I quickly fell a rabbit hole of similar developers. And I'm not talking about Diafine, but rather Rollei Supergrain. Supergrain is an updated version of Amaloco AM 74. Supergrain offers up a series of dilutions and times that will develop most films at the same associated times. Perfect if you're shooting a whole bunch of different films but have limited time and space to develop. While my preference remains with FX-39, Rollei Supergrain is no slouch.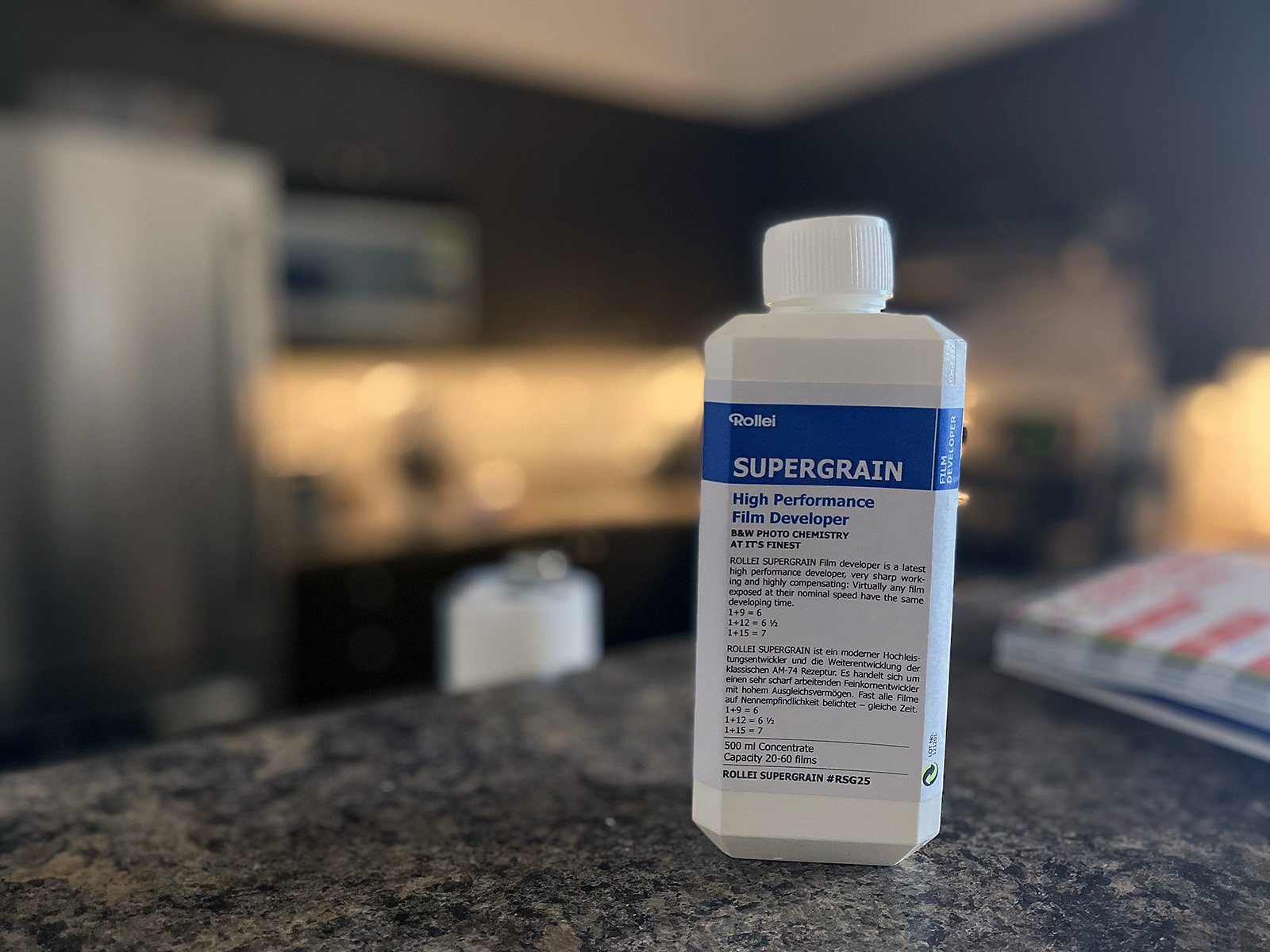 Technical Details
Manufacturer: SPUR
Name: Rollei Supergrain
Primary Developer: Hydroquinone
Type: One-Shot
Mix From: Liquid
Handling
Working with Supergrain is easy for both tested and new users of home developing. The concentrate is easy to pour and isn't incredibly thick (like HC-110 or Ilfotec HC). There is a slight colour to the liquid and no smell. The developer uses three dilutions that can process almost all films exposed at box speed at a universal time. The dilutions are 1+9, 1+12, and 1+15 and the times are 6 minutes, 6.5 minutes, and 7 minutes accordingly. Now some films use a different time, but these are listed on the bottle. But most films will conform to the standard set of times even if they aren't listed, like Agfa APX 100. Economically, a bottle of 500mL will process a minimum of twenty rolls of film at the 1+9 dilution up to sixty at 1+15, assuming that you mix up 500mL of solution each time. As a strong working developer, I do recommend using a chemical stop bath when working with Supergrain. I'm unsure about how shelf-stable the developer is, but I'm assuming it will last up to a year sealed and maybe six months after opening.
Applications
As a jack of all trades, Supergrain is perfect for those who are working with limited space to store their film developing equipment. The developer works on almost all films and can be used to develop multiple films in a single tank providing that the film has been exposed at box speed. While I did not try any push or pull processing, the highly compensating nature of the developer, I'm sure will produce excellent results. As it also helps with sharpness and levels out grain even on grainy films, it can produce excellent results. As the developer is compensating if you practice using the zone system, this developer will undoubtedly help bring out the best with your negatives.
Qualities
I honestly don't think there's a film that Supergrain doesn't like, and I made sure to pick some more interesting films to process with Supergrain. And if a developer can reduce the grain while giving sharp results from Rollei Superpan 200 and Foma Retropan 320 (providing you don't scratch your negatives with a gritty squeegee), then you have a winning developer. Plus it does some of the best work I've seen with Rollei RPX 400. And that's not all, on slower films it produces excellent results, Rollei RPX 25 and Fujifilm Neopan Acros 100 both produced excellent results and helped preserve the highlights and the shadow detail at the same time. It also works well on both traditional and modern grained films without missing a beat. When it comes to contrast, there's no change; it allows the film's inherent contrast to shine.
Lowdown
I have to say, I'm a fan of Supergrain, and certainly will keep it in mind for developing faster film to get the best results. However, it won't be one that will become a 'standard' developer in my chemistry kit, as I already have a bunch of other developers that I enjoy using. If I ever needed to reduce how much chemistry I keep on hand, Supergrain along with FX-39 will undoubtedly be two that I insist on keeping. I'd give up Rodinal first, especially if I want something that does everything and does a good job. I would also recommend Supergrain to someone just starting who wants to get the best possible results out of their film, an essential thing if they're coming into film from a primarily digital world. Supergrain provides excellent detail and fine grain on every film that I have developed in the stuff.
Recommended Reading
Don't just take my word on Rollei Supergrain check out these other blogs on the subject!
No reviews found on Rollei Supergrain