If there's one thing that is always uncertain these days is the availability and quality of photochemistry. At the same time, some companies have had no issues with maintaining their normal level of quality. As manufacturers of the materials and chemistries shift away from the originals, things get a little grey. Thankfully some are willing to take a chance and help keep things going, and one such company is Adox. While most of their chemical offerings are based on formulas from other firms, Rodinal, FX-39, and Atomal spring to mind. Adox XT-3 is a new offering, backwards engineers from Kodak Xtol a well-loved Ascorbic Acid developer that of late has had some bad batches (and not in the good Clone Force 99 way). And in true Adox fashion, they improved upon it, allowing for smaller volumes with shelf stability along with their Adox Captura technology to reduce dust and odour!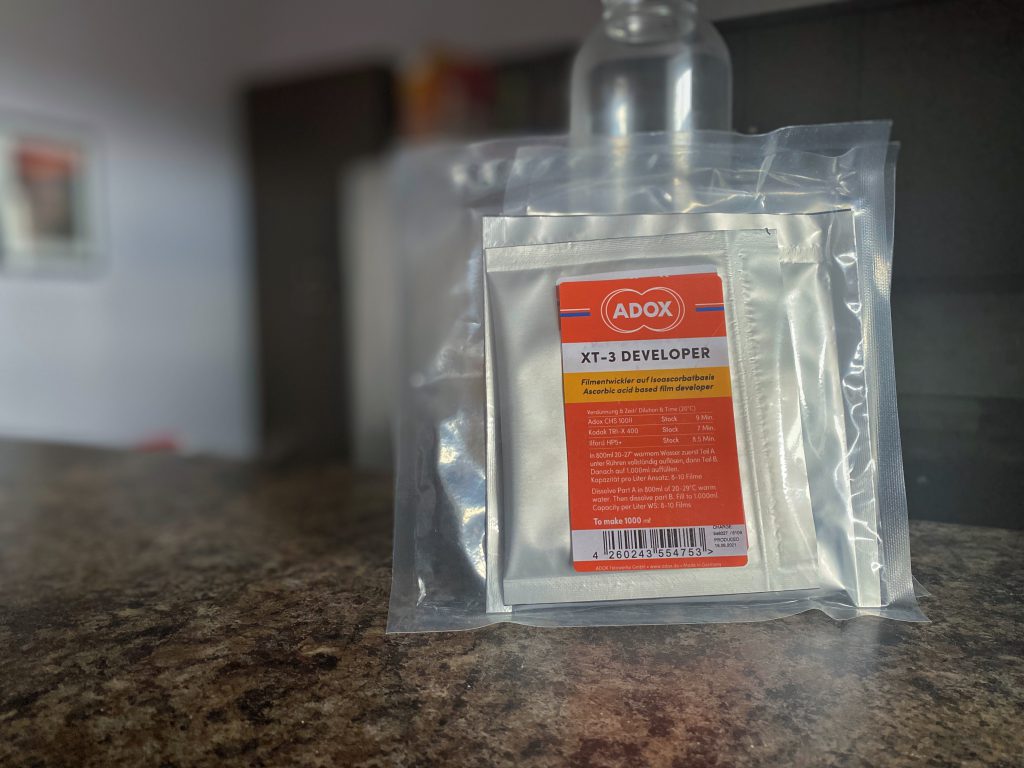 Technical Details
Manufacture: Adox
Name: XT-3
Primary Developer: Ascorbic Acid
Type: Reusable/One-Shot
Mix From: Powder
Handling
One of the best additions to Adox XT-3 is the new Captura technology that cuts down both dust and odour, making it an easy developer to handle in powder form. There are two powders, Part A and Part B. If you're familiar with mixing up Xtol, then it's not a long leap to XT-3, mixing takes place between 20-29C, but you probably want to hit a middle point on the temperature scale, say around 25C is a nice happy medium. Then add Part A, stirring gently to avoid any over mixing, then add Part B, mix, and top up to final volume. Do not shake or violently mix as that will cause oxidization; your final solution should be clear. And it should only take between 2-3 minutes to dissolve, making it a fast developer to mix completely. The developer will last for two years; in the mixed form, a well-sealed bottle in a cool dark place will last six months; in less ideal conditions, you're time drops to six weeks. You can use the developer in the stock form to have enough juice to process ten rolls of film (1L kit) or 50 rolls of film (5L kit). You can also dilute it 1+1 or 1+2 if you so desire, but then you're looking at a one-shot developer. When it comes to development time, there are a handful of published times for XT-3, however, you can use XTol times, in fact, the Ortho+ roll I used times calculated by Jess for Xtol and they worked.
Applications
Adox XT-3 can make for an excellent general-purpose developer, especially if you're doing high-volume development. You are making it a strong choice for professional labs that handle a lot of black & white films of various types. You can mix up batches quickly, and at the five-litre volume, you can take fifty rolls of film with a single set. While you do have to deal with a slightly shorter shelf time in some cases, it won't be too much of an issue if you're doing that much film. This developer is also good if you're a fan of the old Xtol formulation, you can use the exact times as a direct analogue and get the same results. If you're concerned about the toxic nature of film development, XT-3 is another choice as it shares the same developer as Xtol, although I still would not drink the stuff. But probably the best use for XT-3 is as a push/pull developer to help compensate for over and underexposure of film while shooting. It can also help tame that grain in many cases. For this review, I went with five different films. Some are common, and some are a bit more specialized. When it comes to film choices, you have plenty of options open to you, both fast and slow, not to mention being able to compensate for any over/underexposure. Despite handling push/pull development, I found that the developer does not take expired films, especially ones of questionable storage. I enjoyed working with the developer in Ilford HP5+, FilmFerrania P30, Ilford Ortho+, and Adox CHS100II. However, the two films that impressed me the most are Fomapan 200, a film notorious to nail down a good development and Ilford Ortho+ which blew me away. Big thanks to Jess Hobbs for coming up with the Xtol development times for Ortho+!
Qualities
If you're a fan of the results you get out of Kodak Xtol, then you will find that you get the same results from XT-3. That should come as no surprise, given how close the two developers are to each other. One of the best parts about the developer is that it provides a modest effect on contrast; it levels things out, which is why it is an excellent choice for push/pull development. It will give a bit of contrast when needed or take it away when needed. I saw this the most when push processing expired TMax 400 and shooting under low-contrast conditions on a dull rainy day with Fomapan 200 and Ilford HP5+. This particular quality also helps improve the overall tonal separation of the film, allowing for clean whites, deep blacks, and excellent greys through the mid-tones. However, you will notice a drop in contrast when diluting 1+1. It also helps with the overall sharpness of the film. One of the film's best qualities is the ability to tame grain; it keeps that fine-grain development from Xtol and improves it overall. I found that even with Adox CHS100II, which isn't precisely a fine-grained film, XT-3 does a superb job in retaining edge sharpness while cleaning up the film's grain.
Lowdown
While I haven't had Xtol in my chemistry cupboard for some time now, I honestly thought that I would feel a bit meh about XT-3, but after seeing the results, I got from the stuff, I found that I missed this style of the developer. But if I used the developer again, I would stick to the stock dilution as I was not 100% happy with the results from the 1+1 dilution. The bonus of mixing up in 1-litre kits certainly makes it attractive for those with limited space. I can see myself getting this developer in again in the future. The biggest concern with XT-3 is availability; given that Adox is a small manufacturer, they are limited by how much they can make along with the other chemicals in their catalogue. Thankfully they do seem to churn out enough to keep people happy (I'm glad I got a second pouch for some film reviews next year). As for availability, you can purchase it through only shops, direct from Fotoimpex or through Macodirect, Analogue Wonderland, and other stores. Here in North America, I've only seen it pop up at Freestyle Photographic. From Fotoimpex, you're looking for 8.70$ for a 1L kit (~87 cents per roll, that drops to ~50 cents a roll with the 5L equipment), so the price is not too bad! While I hope that Kodak gets things in order with its chemistry production, it is nice to know there are always alternatives to well-loved developers.
Recommended Reading
Don't just take my word on XT-3. Check out these other blogs on the subject!
Toivonene Photography – Adox XT-3 Review