When keeping things simple, look no further than a monobath. As the name implies, a monobath developer will do all the steps for you, from developing to fixing. All you'll need to do afterwards is clear and wash the film. It can also act as an almost universal developer being able to develop multiple rolls of film for the same period. Perfect if you need to develop film in the field to avoid it getting cooked in an airport scanner or want to keep your life simple at home for development. Monobaths are nothing new, they've been around for a while, and I've worked with a couple of options. The first being my own homebrew HC-M, based on Kodak HC-110. And the second being the FPP Super Monotbath. I didn't get bad results from either developer; I didn't feel it fit well within my development workflow. I'm lucky to have the space for all the chemistry I need to develop at home and have never been denied a hand-check of my film at airports. But CineStill's monobath developer is unique in that it seems to hit all the right notes, and having seen some superb results online, I knew I had to give it a shot, at least once.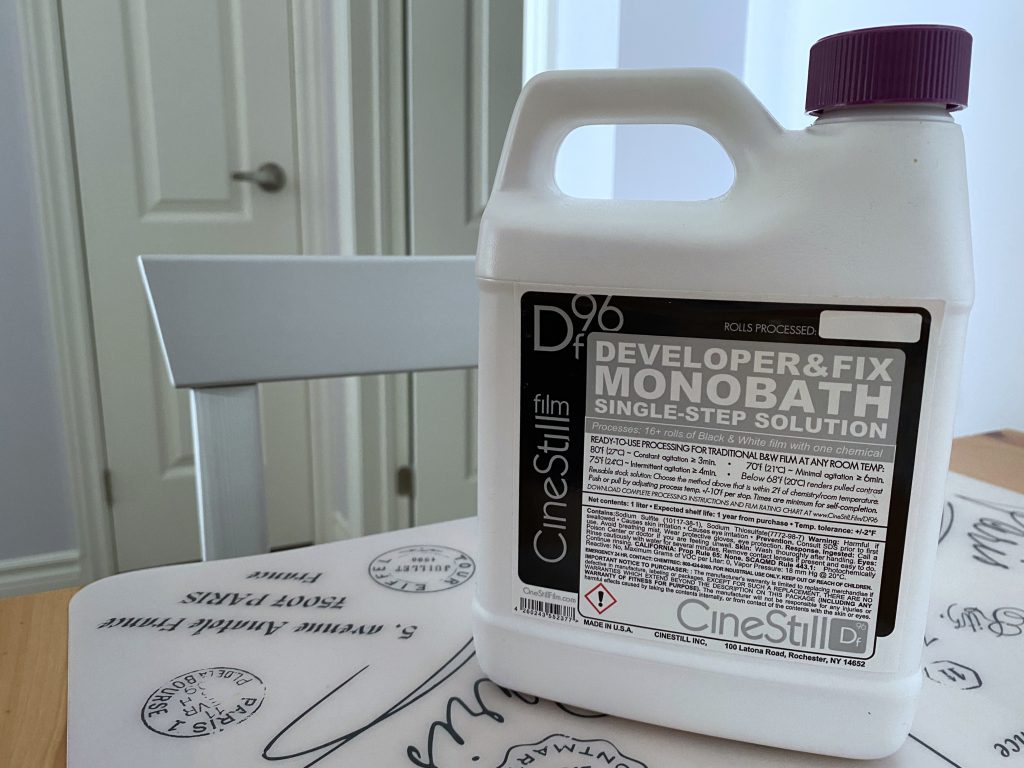 Technical Details
Manufacture: CineStill
Name: Df96
Primary Developer: Hydroquinone
Type: Reusuable, Monobath
Mix From: Liquid or Powder
Handling
If there's one fantastic thing about a monobath, it is what it says on the tin. Df96 is your all-in-one for film development as it will take all three steps in your standard development methods; it will develop, stop and fix your B&W negatives. You can purchase Df96 in either powder form or ready-to-use liquid. You will need to mix with water in powder form to form the monobath. Providing that the foil bag remains intact, the powder will last for several years. In ready-to-use liquid form will stay one year in an unopened and sealed bottle. You have two volumes, either a 1-litre bottle that is enough to handle sixteen rolls before adjusting times or a 530mL bottle suitable for eight rolls before adjustments. CineStill has made it possible to develop your films using three different methods. If speed is required, heat the monobath to 27°C (80°F), then constantly rotate the tank for three minutes (a rotary processor like the B's Processor would be helpful). For a longer development time with intermittent agitation (30 seconds initial constant, then 10 seconds every minute), heat the monobath to 24°C (75°F) and run the film through for four minutes. The final opinion is minimal agitation, an initial ten-second constant agitation, then five seconds every minute for six minutes total with a temperature of 21°C (70°F). Although you can also increase the time to provide for complete fixing, this doesn't affect development time. But make sure the film has been in for the minimum time. This fact might be helpful for t-grain films, which I've found require a longer fixing time. You should also make sure to pre-soak your film to get it up to the temperature you'll be using for development and wash away any dyes that could contaminate the monobath. The developer itself pours easily and won't cause any headache by being overly viscous. When it comes to exposing the film, you may have to under or overexpose the film; CineStill has provided a handy chart to help in choosing how to shoot the film. It's also important to keep an eye on the colour of the monobath; as it ages, it will turn yellow due to oxidation and, when it perishes, will be dark amber.
Applications
A monobath, especially one as good and easy to use as Df96, makes home black & white development within reach of almost anyone. There's no need to fiddle around with a pile of chemistry, figuring out how long to develop and ensuring that you have the correct chemical and dilution. Df96 will develop any film with a single universal time. There's only one that does require longer, but Begger Pancro 400 is hard to come by these days. A single time means you can shoot multiple rolls and develop them simultaneously in the same tank. Both the JCH Streetpan and Eastman Double-X were developed in the same tank. To process using Df96, you only need a change bag (or light-tight room), a developing tank, reels, the Df96 and running water! While I wouldn't recommend bringing the entire chemistry container onto a plane, you can get some locally along with the film and have your whole vacation processed and ready to rock before flying home. It avoids any nasty X-Ray or CT Scanners at the airport. The one application I can see this helpful in my workflow and photography is for in-field processing at reenactments, especially in World War Two. Photography was extensive, and being able to show off negatives shot during tactical demonstrations can undoubtedly help bring the public into the era. This would have never been done in the field, but it would be a fun addition to an impression for those who may have never seen something like film development. When it comes to film, it's best to use films that have a bit of dynamic range and forgiveness. I got the best results from films like Kodak Tri-X and Eastman Double-X, which have a lot of forgiveness and controllable contrast. While I liked the results from JCH Streetpan, the contrast remained a bit too high even with a one-stop over-exposure. I see Df96 as a gateway into the wider world of home development, being able to move on to more general-purpose or specialised and speciality developers.
Qualities
Probably the first thing that drew me into Df96 over other monobaths is the use of hydroquinone as the primary and only developer. In the past, I also haven't been too happy with my results, but there are plenty of excellent examples online, so I was excited to see the results I got. I purposefully selected some interesting films to see what the developer could do. Eastman Double-X, Fomapan 200, JCH Streetpan Retro 80s, and Fomapan 400. I'll admit, I breathed easier when the first set of negatives out of the tank looked perfect! If I could use one word to describe the negatives, it's clean. The developer doesn't add or subtract anything from the film; if you've exposed the film at the ideal speed and properly, you'll end up with excellent results. Overall, the images have good contrast, clean whites, good blacks and a stunning tonal range. There's no reduction in grain that comes through clearly with Eastman Double-X, but you maintain excellent edge sharpness. Details with JCH, Foma 200 & 400. The one thing you do have to watch out for with the film is bromide drag, don't let it sit too long, or you'll notice streaks from the sprocket holes. Personally, stick with the constant agitation for the best results plus the fastest.
Lowdown
I did not have high hopes for the results from Df96, having had a poor experience with monobaths in the past. Thankfully, Df96 changed my mind and made me want to go back and give the FPP Super Monobath a second chance in next year's review cycle. But to be honest, a monobath almost feels like cheating. But in a James T. Kirk versus the Kobyashi Maru test way, he passed through changing the test. Will I use Df96 again? When I put that WW2 combat photographer impression together, it will probably make for some fun opportunities at events for fellow reenactors and the public. Pair that with my Rolleiflex, Contax IIIa, and some Fomapan films, and I have a natural winning combination. CineStill has done an excellent job crafting a monobath that behaves and produces images like a general-purpose developer and is readily available. You can purchase Df96 directly from the CineStill website in both liquid and powder form, plus there are plenty of online and offline shops that sell CineStill products. If you want to either simplify your black & white workflow or are overwhelmed by home development, Df96 will fill both those roles and deliver quality images simultaneously.
Recommended Reading
Don't just take my word on Df96 check out these other blogs on the subject!
Emulsive – CineStill Df96 Monobath Review
Studio C-41 – Review: CineStill Df96
35mmc – Learning to Develop film with CineStill Df96
The Analogue Experience – My Experience: Developing with CineStill Df96 Monobath
Analog.Cafe – The Monobath Experience