Let me start this by saying that DD-X and I have not had the best of relationships. The first time I used it I wasn't happy with my results and decided that I was never going to touch the stuff again. But hey, almost every filmstock and developer are worth a second glance. DD-X, like its Kodak cousin, TMax developer was initially designed for use with the Delta range of films, specifically Delta 3200. Ilford has two versions of this developer, Ilfotec DD which is designed mainly for automated film processors that will use a dedicated replenisher and used in the stock formulation. White DD-X designed more for home processing how I do things. If I got that wrong, please leave a comment with the correction, and I can update this post.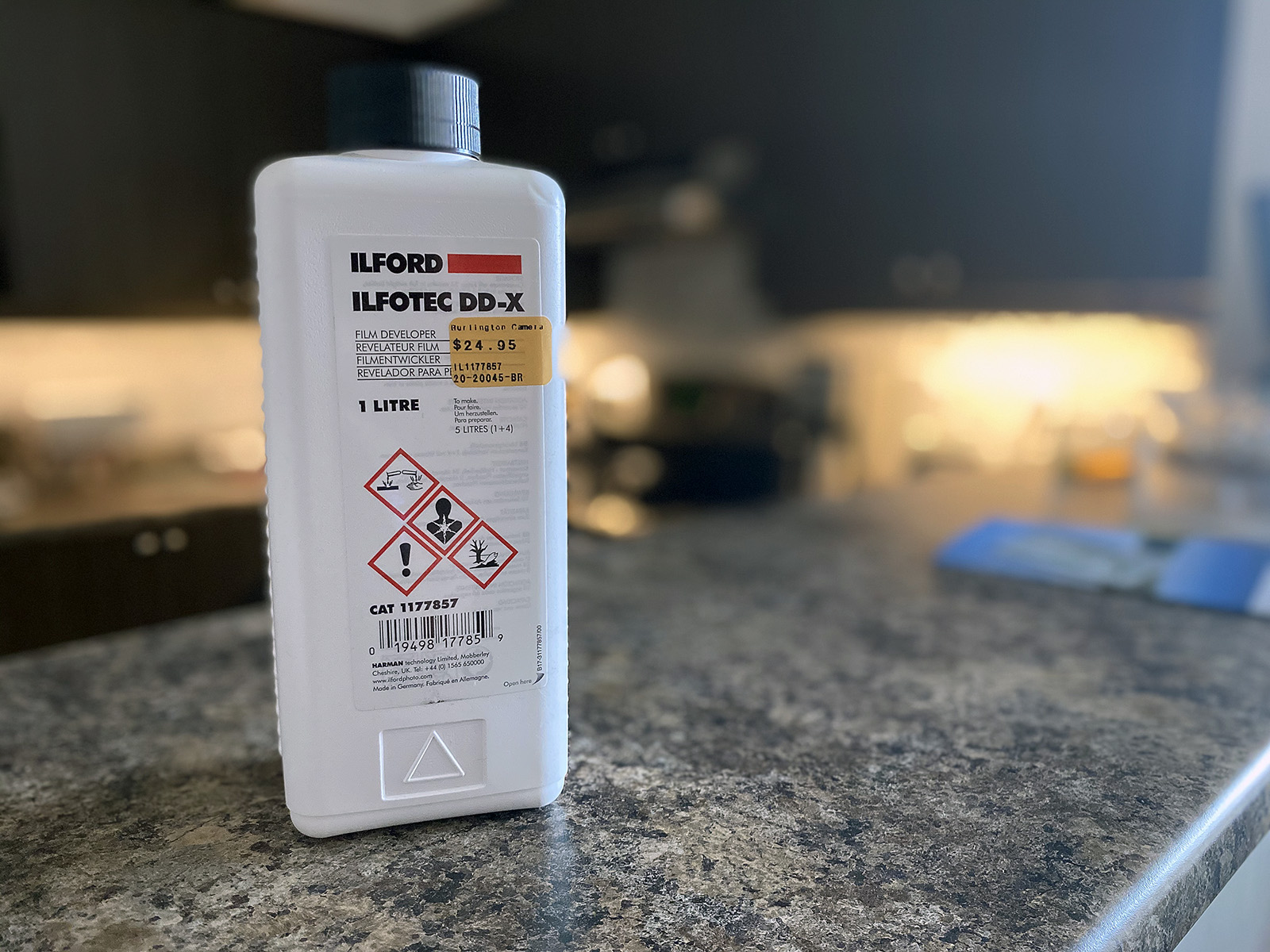 Technical Details
Manufacturer: Harman Technologies/Ilford Photo
Name: Ilfotec DD-X
Primary Developer: Hydroquinone
Type: One-Shot
Mix From: Liquid
Handling
DD-X is an easy developer to handle; you'd almost think that it had been mixed up from powder. The first thing that I noticed is how easily it pours; it's near perfectly liquid with no viscosity at all, even Kodak TMax developer is much more viscous. Most of the developing combinations used with DD-X calls for a 1+4 dilution although you can also use at 1+7 or 1+9. The official documentation calls for all dilutions are one-shot, yes even at 1+4. However, you can use that 1+4 for up to ten rolls of film, with an appropriate adjustment in developing times, with a 10% increase after that first roll and a 90% increase for roll number 10. Ilford does warn that the more you reuse that stock solution even with the time adjustments you will lose image quality. If you do want to increase the life of your concentrate, use the 1+9 dilution and adjust your times. Ilford also warns to ensure that you use at minimum 10mL of the concentrate when mixing up your working solution. DD-X has a good shelf-life a sealed bottle is shelf-stable and has a decent life when opened. Although it will yellow, it can still function normally, although you might see some degradation of image quality the longer it stays open. Even the working solution has a decent life, with it lasting up to twenty-four hours once mixed.
Applications
Despite my initial thoughts on DD-X, I now realise that the developer is no one-trick pony. Honestly, I first thought that the only film that worked well with DD-X is Delta 100. And it's true, Delta 100 sings in DD-X. But you can get amazing results from other films so don't let DD-X go by. Before we continue, one of the best films to develop with DD-X is Delta 3200. Also, it's one of the films that I did not include in this review. Thinking back, I probably should have, but what can you do? Either way, DD-X works well with any modern emulsion, Kodak's TMax line, Ilford Deltas, along with Fomapan 400 and 200 and Fuji Acros II. But there are some surprising additions, including Adox HR-50, making it a viable developer when you cannot or don't want to invest in a bottle of HR-DEV. And it also does a good job processing traditional or classic grained films like Ilford FP4+ It also does a good job with push and pull processing thanks to its nature as being semi-compensating.
Qualities
Let's start with tonality, if there's one thing that DD-X can give you is amazing tonality especially when you nail the exposure on the negative, but that's your usual goal eh? The idea is to create a negative that prints easily both in a traditional darkroom or even an alternative process. And in addition to the beautiful greys, you get excellent deep blacks and bright whites. But DD-X will also deliver excellent sharpness and fine-grain. Although there is a drawback, that added tonality does step down the contrast, and if you aren't careful with your exposure, you do get a little muddled. While not a low-contrast developer, it's more of a middling force for your contrast and that probably helps knockback that contrast when pushing your film.
Lowdown
Despite my initial aversions to the developer, I think I have come to like DD-X and might even use it more than TMax Developer. First off, I now have a good local source for the chemical, no need to head into Toronto or pay for shipping, and I find it easier to handle while processing film. Sure you still have the issues that the chemistry is a bit more expensive, and a bottle doesn't last too long unless I decide to try the time extension, which thanks to Ilford they include all that information in the datasheet. And also if I decide to get some Delta 3200 again, DD-X will certainly be the developer of choice. These days Ilford chemistry is getting easier to find in local camera stores in Canada which is excellent because I certainly will want to continue to work and support an excellent company that is a big supporter of the film photography community.
Recommended Reading
Don't just take my word on DD-X check out these other blogs on the subject!
No Reviews Found on the Subject