When you read the datasheet for Adox Silvermax Developer, you almost can think that this is the secret cypher key to unlock the best possible results when using Adox Silvermax film as the developer is used to unlock a secret silver reserve in Silvermax films and use it to the best photographic potential. Now I'm no language expert, especially German, but I feel that something got lost in translation. (Checks translation), okay, dormant reserves. Either way, this developer is best used with Silvermax films, as it couples with the specialised sensitiser used in that film's production. But don't let that stop you as the developer can be used with other films and often to great effect. In fact, I've gone ahead and even used speciality motion picture film here after seeing excellent results posted online from fellow film photographers to show off exactly what Silvermax developer can do and that it isn't your average one-trick pony.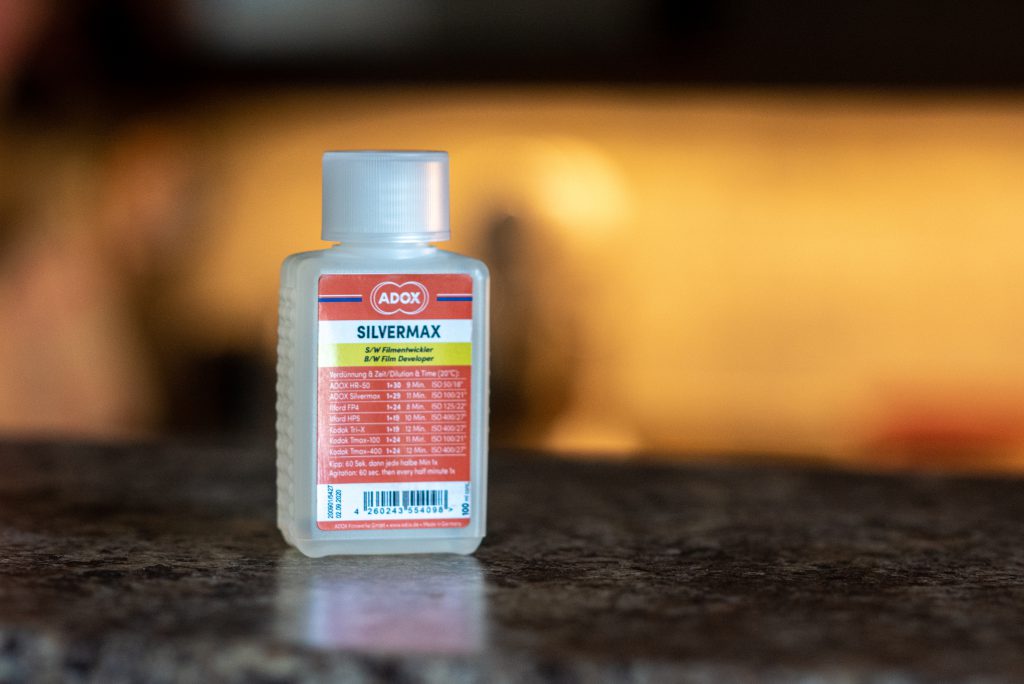 Technical Details
Manufacturer: Adox
Name: Silvermax Developer
Primary Developer: Hydroquinone & Methylaminophenol
Type: One-Shot
Mix From: Liquid
Handlinga
The developer has a decent shelf-life; unopened, you're looking at 1-2 years. That does depend on storage conditions; it likes a cool, dry place. Once the seal has been cracked, it's six months, which still is not bad. But like most developers, once you've mixed to the working solution, use it right away. According to Adox, the working solution will go bad after an hour. Silvermax developer is a dilute developer, you're usually working with dilutions of 1+24 or 1+29, so despite the fact, it comes in a 100mL bottle that has enough chemistry for several rolls. The developer pours easily and mixes up almost clear. The one thing I did notice is that once you've finished with the development, it takes on a pink colour. The one thing to pay attention to is agitation patterns. In most cases, you can follow the standard pattern, but there are changes to get the best out of the film in other cases. Two examples of this are with Rollei Superpan 200 and FilmFerrania P30. With Superpan, you have the standard constant agitation for the first minute, but then only two inversions (five seconds) every following minute. With P30, you have constant agitation for the first thirty seconds, then one inversion every thirty-second interval. Also, this is not a developer to use if time is important; most developing times are ten minutes or longer, most of my times for this review were at the eleven-minute mark, Superpan 200 is fifteen and a half, only Ilford FP4+ had an eight-minute development time but a stronger developer mix.
Applications
Surprisingly, Adox Silvermax Developer is more than a one-trick pony. The main application for Silvermax Developer is with Adox Silvermax film. The two are keyed to each other. As the documentation states, Silvermax Developer will open up the extra silver content in the film to give the ideal results from Silvermax films. I purposefully picked a couple of different film stocks that are difficult, FilmFerrania P30 and Rollei Superpan 200. And the results speak for themselves; they did an excellent job on both films. But it also provided some of the best results I've seen from Eastman 2238, an ultra-low specialised motion picture film. And even for normal films like Ilford FP4+, I was blown away by the results provided.
Qualities
Often when it comes to developers, it's a slow burn to find the right film, the right dilution, and the right technique. But that very first roll I pulled from the tank developed in Silvermax, I was blown away. And that's with Rollei Superpan, it was only further infused with Eastman 2238, and it also provided with negatives from FilmFerrania P30 that I had never seen before! Silvermax developer produces a rich image with an incredible tonal range which only improves the sharpness. When it comes to grain, there is still some, but it does help knock it back a bit without losing edge sharpness. The developer does not do much to the contrast of the films but does improve it to help with that tonal range. As I mentioned earlier, this developer is specifically designed for the recently discontinued Adox Silvermax film. Together the two produce an image the likes of which I have not seen in a modern emulsion, your blacks are deep, and your highlights bright, and you have every other zone across the board, providing you exposed the image properly. While I only used the film on slow and medium films, I'm confident how it will handle faster films like TMax 400.
Lowdown
As of March of 2021, Adox announced the Adox Silvermax film's discontinuation due to them running out of the specialised sensitiser used in that film stock. They first got their hands on chemistry in 2004, and it lasted sixteen years. I'm unsure if the discontinuation of Silvermax film will end the production of Silvermax developer. But I know that if I get a chance to buy another bottle, I will because the developer is a well-rounded speciality developer which is exactly what I've expected from the fine folks at Adox.
Recommended Reading
Don't just take my word on Adox Silvermax Developer. Check out these other blogs on the subject!
No other reviews found!