If you've followed my photography journey, one of the first developers that became a favourite is Kodak HC-110, which switched to Ilfotec HC last year when I finished off my final bottle of the OG HC-110. But sometimes, you have to send in the clones. I've been aware of LegacyPro, and other clones HC-110 developers for some time but have never thought to give them a try. But after learning that Ilfotec LC29 is a variant of Ilfotec HC, I made a point to try L110. L110 is HC-110 but in an easier to pour format. To make the point that it will perform exactly like HC-110/Ilfotec HC, I used some standard and special dilutions that are a part of my regular development rotation with this type of developer, including the rarely used Dilution D and the unofficial Dilution H. I also used some Ilfotec HC times, especially for Ilford HP5+.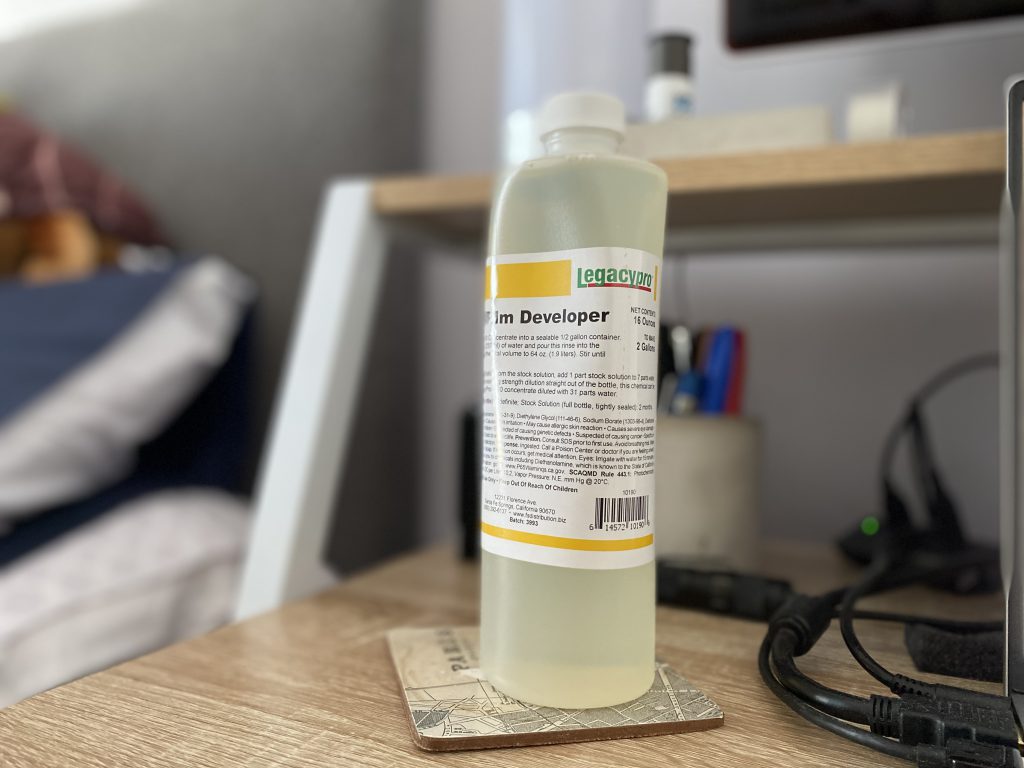 Technical Details
Manufacture: LegacyPro
Name: L110
Primary Developer: Phenidone & Hydroquinone
Type: One-Shot*
Mix From: Liquid
Handling
If you're familiar with Ilfotec HC/HC-110, switching to L110 will be easy. The developer handles it much the same way, except it is far easier to pour. It's closer to what you get from Ilfotec LC29 regarding viscosity. So no more worrying about getting those last drops or working with syringes to pull out the concentrate. Another excellent part is that the developer comes in smaller volumes; the standard is 500mL, so you don't have to worry about the bottle sitting open for years and years. The datasheets show that an unopened bottle has an indefinite shelf-life when it comes to shelf life. Once the concentrate is opened, it probably has a decent shelf life if left in concentrate form. Probably not as long as, say, OG Kodak HC-110, but probably close. The one exciting part about L110, and for those who remember the small 500mL bottles of Kodak HC-110, is that you can mix the concentrate up to a stock solution. To mix up the stock solution, pour the entire 500mL bottle into a 1/2 gallon container and add 237mL (8oz) of water; it will have a shelf life of two months. You can access all the standard Kodak HC-110 dilutions from the stock solution. Examples include Dilution B, which is 1+7 and Dilution A which is 1+3. However, I left that behind when I discovered it was far easier to work directly from concentrate. And you can do that also with L110. You can use all the common and uncommon dilutions for Ilfotec HC/HC-110 and the development times from concentrate. And for this review, I've gone with a mixture of dilutions and times from both developers. There's your common 1+31, or Dilution B, which I used the official Ilfotec HC times for Ilford HP5+, the hardly used 1+39 or Dilution D with Kodak Tri-X 1+47 or Dilution E with CHS 100 II. All work, even my favourite 1+63 or Dilution H! If you're working from a stock solution, it is possible to reuse the working solution with LegacyPro L110R, but from concentrate, it's best to use one-shot.
Applications
Suppose you're a fan of Kodak HC-110 or Ilford Ilfotec HC but have issues with these developers due to cost, availability, or quality control. Then perhaps taking a look at L110 is worth your while. L110 produces the same quality and type of images as the two mainline developers but lower cost. Plus, having a smaller bottle will still provide the same economy and longevity but won't be an overwhelming task of working through a 1-litre bottle of concentrate. Once you have your mind made up, anything you can do with HC-110/Ilfotec HC can be done with L110. Perfect for those looking for a good jack-of-all-trades developer that is more advanced than your standard general-purpose developer. Suitable for those who like a little more control over contrast and compensation and are practitioners of the Zone System or Precision Metering Method. Which also makes the developer excellent for both push and pull development. If a fast developer is needed, L110's 1+15 or 1+31 dilutions are perfect, but if you want to tame contrast, grain, or even widen that tonal separation, the 1+63 or 1+79 dilution is your better option. You can even use dilute mixtures and conduct stand and semi-stand development.
Qualities
If you develop film with Ilfotec HC/HC-110, then L110 will produce precisely the same results if used with the exact times and dilutions. One of the best parts about these developers is how versatile they are within film development. You'll get stronger contrast and a compressed tonal separation at higher dilutions. While you might see an increase in visible grain, you will also have good edge sharpness. But as soon as you start diluting your mix, you'll get a much wider tonal separation, reasonable compensation combined with a forgiving film, and some reduction in visible grain without much loss of edge sharpness.
Lowdown
While most photographers will look more towards OG companies for their developing chemistry, the clones are often an excellent gateway for those new to home development. I know I struggle to make it through entire bottles of concentrate, primarily when I work with dilute mixtures for close to 85% of my development. Having an option to get that classic 500mL (1 pint) size of developer that is easier to pour and can be used both ways. That's a win in my book. Plus, even if you don't work through it all, you're not out too much money at a lower cost. The cost of a bottle is about 15.50$ USD or 19.88$ CAD, which isn't a bad price compared to the near 27$ (USD) for a bottle of HC-110.
Recommended Reading
Don't just take my word on L110. Check out these other blogs on the subject!
Down The Road – Experimenting with LegacyPro L110