When it comes to Ilford developers here in North America, we have access to most of their chemical stocks. But there is one that is a bit of a unicorn, and that is Ilfotec LC29, and I can't see why! This is a developer that, despite being close to Ilfotec HC, does not produce images in line with what Ilfotec HC produces, and it is far easier to pour than Ilfotec HC! I splashed it a little bit at how easily it flowed. Right from the start, I knew I had a winner here in LC29 and feel bad that it isn't readily available here in North America, so hopefully, we can start getting it more across the pond (even if we have to lose another developer, I could do without Ilfosol 3 tbh).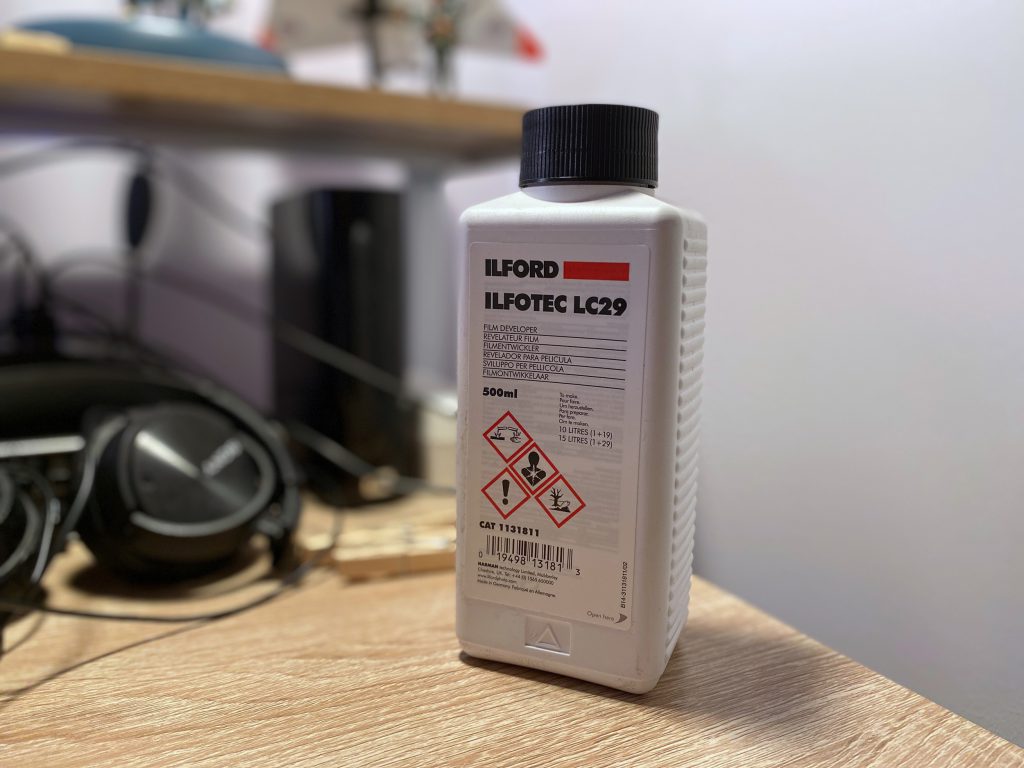 Technical Details
Manufacturer: Ilford
Name: Ilfotec LC29
Primary Developer: Hydroquinone
Type: One-Shot
Mix From: Liquid
Handling
Probably the best part about LC29 is how easily it pours. If you're used to something like Ilfosol 3 or Ilfotec HC that has a bit more viscosity, LC29 has none. Seriously, you have to be cautious with the developer for fear of spillage. Mixing is easy, but you will want to have a small graduated cylinder on hand as it makes measurement easier even at the strongest dilutions. Ilford has three published dilutions, 1+9, 1+19 and 1+29; each produces the same image quality. It ultimately comes down to economy and time. Ilford does note that you want to use a minimum of 10mL of concentrate per working solution for the best results, so adapt your volumes as you see fit. For the best quality of your images, it is best to use LC29 as a one-shot developer. However, the most potent dilution (1+9) can process ten rolls of film (or equivalent) per litre of working solution; that number drops to five with the 1+19 dilution. Resuing the 1+29 dilution is not recommended. The shelf life of the concentrate is not listed, but I would assume that it has a shelf life between Ilfosol 3 and Ilfotec HC. The working solution should be mixed and used as it has only twenty-four hours from mixed to expired.
Applications
I almost wish that LC29 was available when I first started developing film at home; as a developer, this is easy to use to get started in home development. You get good consistent results without too much trouble and insane calculations. And since you get it in 500mL bottles, it won't take up too much space, and you won't have to worry about mixing up powder and counting how many rolls in a bottle of ID-11 you've developed. LC29 works well with almost any black & white film you throw in the soup. Both fast films, slow films, traditional and t-grained. Plus, it can handle one-stop push and pull development without any significant difficulty or radical changes in the overall appearance of the images. One of the more exciting applications of LC29 is that you can stand-develop your film with a highly-dilute working solution. Examples I've found online call for a 1+100 dilution and then left standing for three hours. Or, if you're looking for a shorter time, a 1+120 dilution with a time of one hour with two inversions at the thirty-minute mark.
Qualities
If there's one word to describe LC29, that word is utilitarian. But it's a little more than that; to be honest, this developer is a jack of all trades and good at all of them. LC29 will take the film's best qualities and let them shine while it simply does the job of developing the film. LC29 does a superb job in helping tame contrast, both in reducing and increasing contrast to help bring the best qualities out of the film. It also handles grain well, helping reduce the overall appearance of grain without sacrificing edge sharpness. These two items also help with handling push and pull processing and fast and slow films. But what makes LC29 shine is that it's consistent in how it does this development; no matter the dilution, you will get the same results every time. Adjusting dilution depends on how economical you want to be with the developer.
Lowdown
After spending a lot of time getting my hands on LC29, I question why it is not readily available here in North America. I can certainly see that LC29 would be a potential popular developer both in the home and potentially in a lab environment. It fits between Ilfotec HC and Ilfosol 3, taking the best qualities of both and combining them into a single chemical. I'm sad that I have to import the stuff from across the pond, and I know that I would certainly purchase the developer from a local shop if they chose to carry LC29. I would even go so far as to say LC29 should be the chemistry of choice in the Ilford Simplicity Pack over Ilfosol 3. But if you are in Europe and looking for a one-and-done developer that produces excellent results from almost any film, LC29 might be a good choice.
Recommended Reading
Don't just take my word on Ilfotec LC29; check out these other blogs on the subject!
No Other Reviews Found