When it comes to fine-grain developing, the developer that most people reach for today is Kodak Xtol. But Xtol is one of the newest developers to come out of Kodak, before Xtol if you wanted to tame that grain, you reached for Microdol-X. While I'm unsure as to when Microdol-X was first released by Kodak, I've found images online of the powder coming in cans rather than pouches. The logo style is that of 1935, so I'm guessing it was released at some point in the mid-1930s at the earliest. I stumbled across Microdol-X while visiting Pittsburg back in 2015, while my main goal was to visit Fort Pitt and the historic downtown of the city, I came across a post about an amazing old camera shop in the city and made a point to visit, arriving just as they opened after driving from Milton. While I didn't end up getting any camera gear (I ended up picking up the XA later on that trip), I did find a big box of old photochemistry. I walked out of there with a pouch of Kodak DK-50 and Microdol-X. Sadly Kodak cancelled Microdol-X around 2003.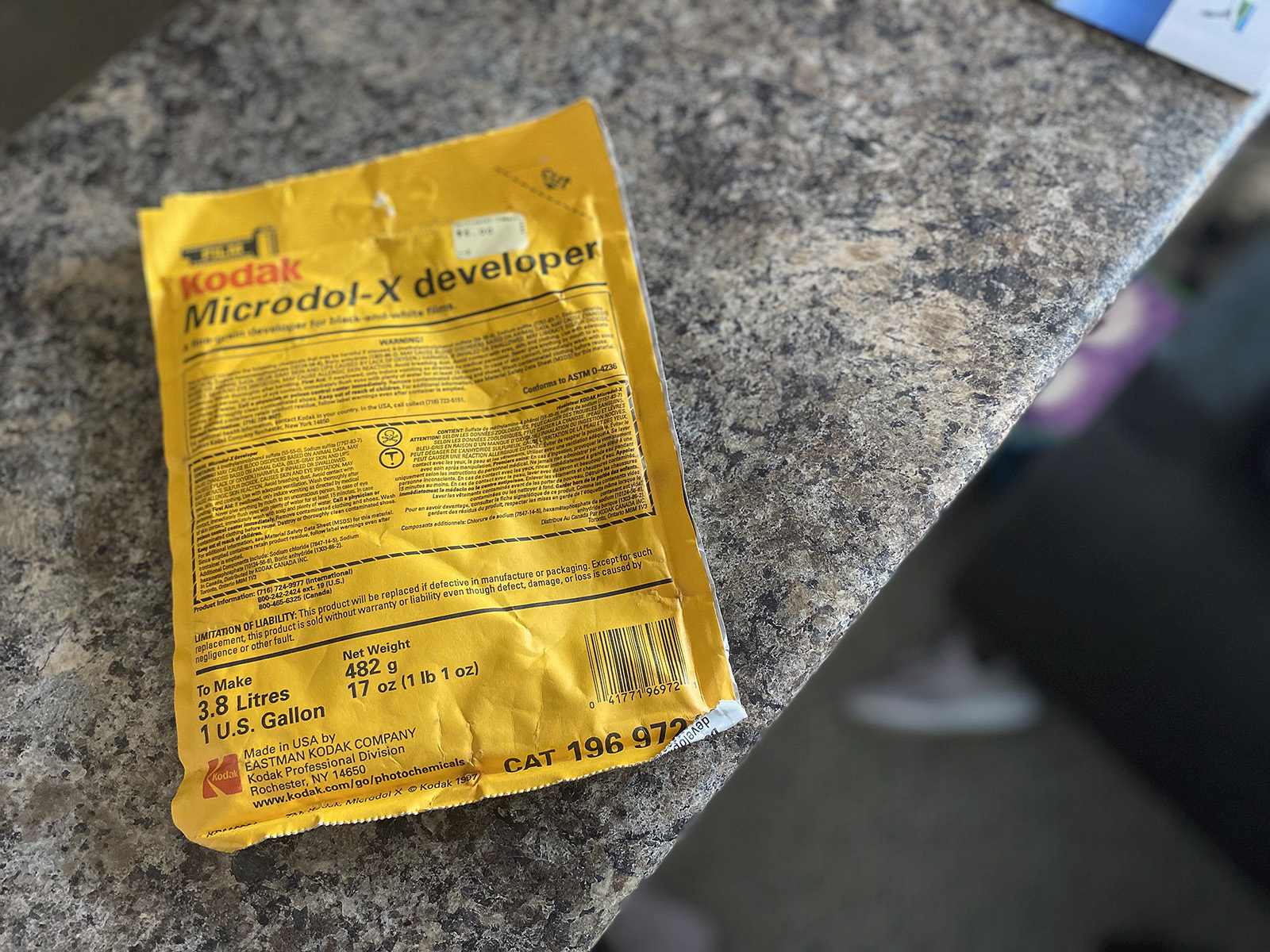 Technical Details
Manufacture: Kodak
Name: Microdol-X
Primary Developer: Metol
Type: Reusable and One-Shot
Mix From: Powder
Handling
Like Kodak D-76 mixing up Microdol-X from powder is a simple task and instructions are found on the pouch. While most of the pouches that are still floating around are for the 3.8L stock solution, you can also get them in 1L pouches which is how I first tried my hand at Microdol-X. I still have a 3.8L pouch laying around that I should mix up and use one of these days. Once mixed and never used in a full bottle the datasheet indicates it will last six months, a half-full bottle will last two months. Microdol-X can be used at full stock strength or can be diluted down 1+1, 1+2, and 1+3. At stock strength, Microdol-X is reusable, and a gallon has enough strength to develop 80 square inches of film, approximately 16 rolls of 35mm or Medium Format (120/620) of film. Any diluted versions are one-shot. Now you can also extend the life of your stock solution by using the Microdol-X replenishment chemical. That is if you can find it, as it was discontinued well before the actual developer got cut.
Applications
While these days there are many other developers that can do what Microdol-X does, probably the best use for Microdol-X these days is if you're looking for just fine-grain or taming the grain of older film stocks, then Microdol-X is an excellent choice. And yes I do know that you cannot get the Kodak branded stuff new, but read on and I'll let you know how to get the stuff today. Designed in the days when if you wanted speed you accepted the grain, if you wanted fine-grain you took the speed loss. Microdol-X was designed to take those fast films, allowed photographers not to lose that speed but tamed the grain, at the cost of sharpness. I've found that Microdol-X works well on classic emulsions, Plus-X, Tri-X, and even Kodak Technical Pan with stunning results. Plus also Ilford HP5+, and it does wonders on the grain produced on ORWO N74 and UN54 (Lomography Berin and Potsdam respectively).
Qualities
As I mentioned throughout the earlier parts of this review, Microdol-X is not the developer you pick if you want sharpness from your films, but if you want a great way to soften up the grain then you will get that from Microdol-X, at the loss of acutance or edge sharpness. While I didn't see too much of a loss of sharpness in large format films especially modern Tri-X and older Plus-X. And I don't think you can do much to knock back the sharpness of Kodak Technical Pan. I did see some loss of sharpness when developing Ilford HP5+. And in all cases, I did see a significant drop in grain, especially in 35mm HP5+. Now if you want to get the best of both worlds, you can start to dilute the stock solution, the more you dilute, the more sharpness is retained but you loose that fine-grain. Other than those two features, the rest of Microdol-X is fairly vanilla and in line with what you get with Kodak D-23 a lower contrast than normal.
Lowdown
While you can still find old pouches of Kodak Microdol-X and being a powder-based developer it is shelf-stable in that form. Of course, check the bag and make sure there's no nicks or tears that could allow oxygen in and cause the whole thing can be established. And be reasonable, if you're thinking of mixing up a bottle of the liquid version (yes they had that) or from a rusty can, I don't recommend using it for anything important. Now, if you don't want to risk working with OG Microdol-X there is a modern option that is the same developer just made by a new company and a different name. LegacyPro makes a clone called Mic-X which is the same thing as Microdol-X and is available through most common online Camera shops like Freestyle, Argentix.ca, and B&H. Will I continue to work with Microdol-X, maybe, there are plenty of excellent developers out there today that allows both fine grain and sharpness, like FA-1027, Pyrocat-HD, and Adox FX-39II. Although there is something to be said about being able to use that in a historical context like photographing a World War II or Spanish Civil War reenactment, so I may just keep this one in my back pocket.
Recommended Reading
Don't just take my word on Microdol-X check out these other blogs on the subject!