When it comes to Kodak's back catalogue of developers, it is extensive. Today it is small compared to the past, with most people going with D-76, HC-110 and XTol. But Kodak once produced a wide range of developers for almost every application. And there is one that provides fast, high-contrast, and low-fog negatives, and that is Kodak D-19. While the original creation and cancellation of D-19 are lost in history, today, you can mix it up yourself or purchase a premixed kit from Photographer's Formulary. Of all the developers I've used and reviewed to date, D-19 is undoubtedly among the most exciting and unique, not one I'll be working with within a regular rotation.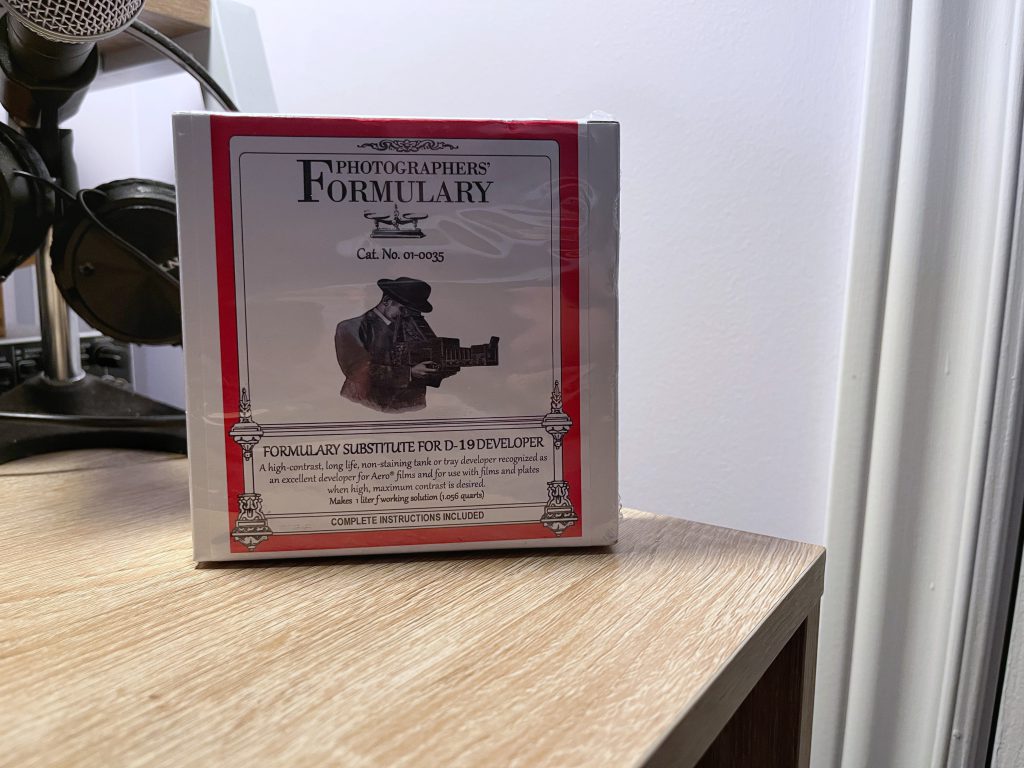 Technical Details
Manufacturer: Photographer's Formulary
Name: D-19 Substitute
Primary Developer: Metol & Hydroquinone
Type: Reusable/One-Shot
Mix From: Powder
Handling
While you can probably find originally manufactured packages of Kodak D-19, the mixing is similar to that of any other Kodak powder developers, with a single package of powder mixed with water according to the printed instructions. Make sure to follow these, especially initial volumes and temperatures, as it makes your life much easier. If you use the Photographer's Formulary D-19 mixture, the premade kit is the way to go if you've never worked with raw chemistry. They include all the required chemistry already at the correct weights. And include a sheet that has the mixing instructions. The initial water temperature is hot, around 48C or 125F. From there, mix the chemicals in the order they are listed on the instruction sheet. Waiting until each one is dissolved before adding the next one. I used a magnetic stirrer, which made life easier, but a mixing rod will also work slower. Once done, top up to the final volume with cold water. Make sure to take precautions by wearing gloves, working in a well-ventilated area, and not being toxic; the chemicals are irritants and can be harmful if consumed. Once mixed, the stock solution can be used for up to sixty rolls or diluted 1+1 or 1+2 for a one-shot solution. The stock solution will last six months in a fully sealed container. The one thing to watch out for is that the original Kodak-produced D-19 is starting to get old; the powder will last a long time when properly sealed in a foil bag, but watch for any damage to the bag before mixing it up. If you feel brave, you can purchase the chemicals in bulk and mix them up yourself. This is an economical way to produce the chemistry if you are heavily into dry plate photography.
500mL distilled water at 48C/125F
2.2g Metol
96g Sodium Sulfite (Anhydrous)
8.8g Hydroquinone
48g Sodium Carbonate (Monohydrated)
5g Potassium Bromide
Cold Distilled Water to make up 1L
Applications
Historically the primary use of D-19 was for high-contrast and fast development times, especially when using the stock solution. Popular among press photographers who needed to get the film developed that day, often in less-than-ideal conditions, then wired to their editor for the next morning's paper. It also found a use for developing black and white IR film, X-Ray films, technical films and photographic dry plates. And still today, all these applications can be found in the photographic world. Both J.Lane and Zebra have new production dry plates of excellent quality, and the gentleman behind the Zebra plates has even recommended D-19 for the developer of choice for his plates. Infrared films are still available, both original Kodak HIE and modern emulsions (like Rollei IR400) and near-IR Ilford SFX200, Retro 400s, and Retro 80s. If you're looking to amp up the contrast on the film, then D-19 is the developer of choice. I did try to develop a roll of the FPP X-Ray film, going with the suggested nine-minute starting time-based on the documentation from the Formulary. But after some digging, I found some original Kodak datasheets suggest a five-minute starting time which certainly would make more sense. The nine-minute starting time might work for a 1+1 dilution.
Qualities
I went into this review expecting a lot of high-contrast images, but after pulling my first (successful) roll from the tank, I was pleasantly surprised at the results. While there is certainly a higher-than-expected contrast, it isn't in the unusable territory. On paper, D-19 is a high-contrast, high-grain developer, but that's not surprising given the primary application. It's a fast-acting developer designed to get the film processed and over the wire to your newspaper. It also works well with X-Ray, Technical, Plates, and IR film. These mediums are already high-contrast, sharp, and designed to be projected or used in larger formats. And knowing these things probably helped me subconsciously choose films that are already fine-grained, and some have some high contrast. While discounting the over-developed roll of Superpan, the three working rolls were fairly dense when I pulled them out of the tank. But after the films had a chance to dry, they looked usable, and both the V700 and the Coolscan V ED handled them well. And the results were surprising. And even with the over-cooked Superpan, I could easily pull back and get usable results. Are they high-contrast, of course? Is there greater visible grain? Yes, there is. The high-contrast results in a compressed tonal range, with only some mid-tones, but you get dark blacks and clean highlights. It does limit the film's native tonal range, but it's not a bad thing in some cases. But the greater visible range does increase sharpness, and these images are still sharp and pleasing.
Lowdown
I've worked with many different developers throughout these reviews, and I'll have to say, D-19 baffled me. It is not a bad developer but is designed for specific purposes. And I can see myself returning to it again for specific future applications. One of the critical applications I can see myself getting behind for D-19 is as a fast-acting, high-volume developer designed for field applications. And since there are times for Fomapan 400, a film I intend to use for any combat photographer impression. And I think D-19 makes for a good choice in getting that high-contrast grainy look that might work for Fomapan 400 (maybe with a one-stop over-exposure). It is undoubtedly worthwhile for future experimentation when I get closer to putting that impression together. There are two ways to get D-19, the first is to purchase it through Photographer's Formulary, and the second is to make it yourself. And it all depends on how often you are using the chemical. If you're like me and only use it for specific applications and have curious occupants in your home, purchasing the chemistry pre-portioned from the Formulary would be best. It is easy to keep away from little hands or paws in powdered form. But if you're a large volume user of the stock, mixing it up yourself would be the way to go, and gaining a chemistry supplier like Photographer's Formulary will stock all the needed raw chemicals. Will I use it again? There's a good chance, especially if I want to review some dry plates on the market for future reviews.
Recommended Reading
Don't just take my word on D-19. Check out these other blogs on the subject!
Lost Light Photography – Kodak D-19 Original Recipe